Remodelling a house means making changes and improvements to the structure and features of the home. This can include things like updating the kitchen or bathroom, adding a new room, or renovating an existing space. The goal of remodeling a house is usually to make the home more functional, attractive, or valuable. This can be done through a variety of methods, including adding new features, changing the layout, or updating the decor.
Paul Archer Design did exactly that when they were tasked to provide living space for a family of five in a tall, narrow house. To make the most of the available space, they decided to put the three teenage boys on the lower ground floor, where they could have their own living space. Meanwhile, the upper ground floor was opened up to create a better flow between the living spaces, and to provide a studio for the parents. The lower ground floor was also extended beneath the existing rear wing to add an additional bedroom. By widening the doors to the stair hall and the new extension, they were able to improve the connection between the different areas of the house.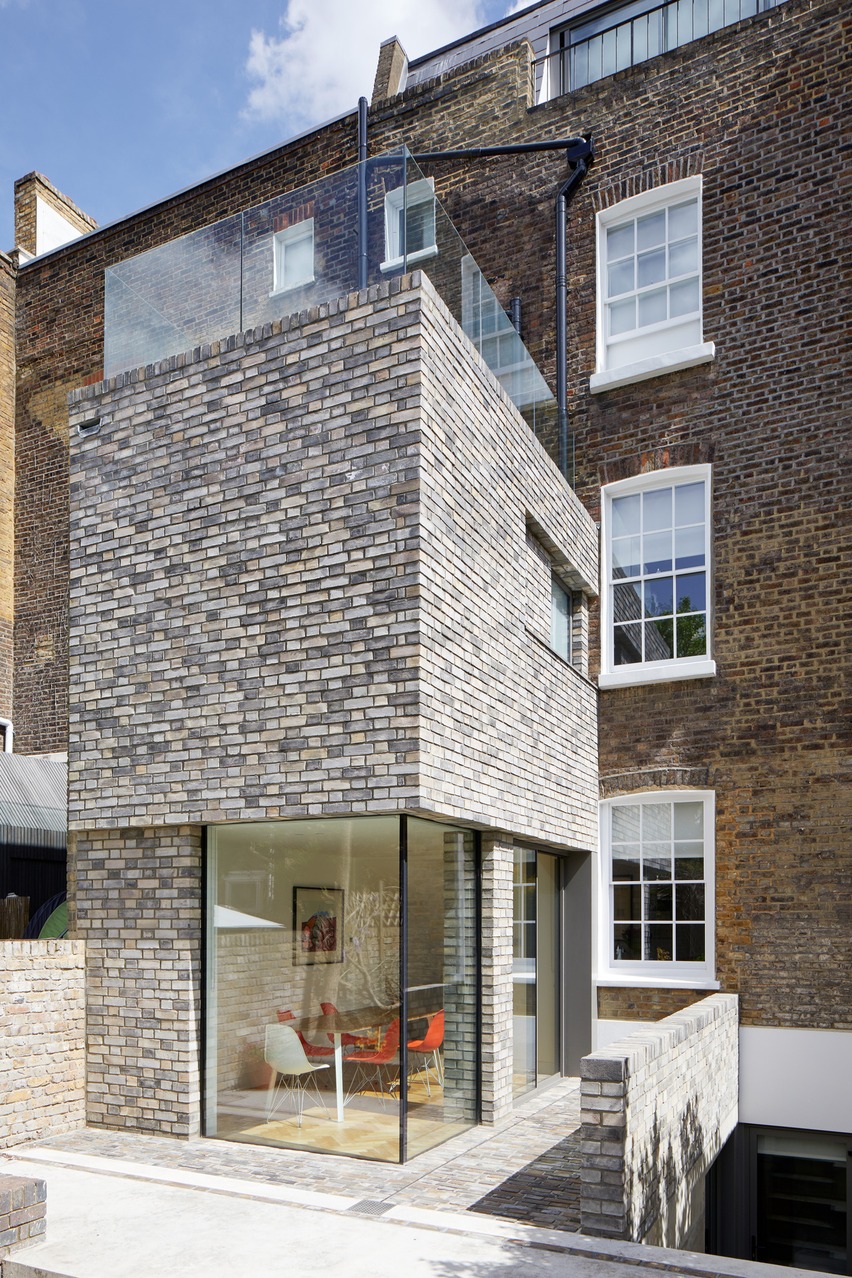 The original rear extension was designed as a solid, imposing structure with cutouts and openings. To update it, the extension was rebuilt using brick, which added to its sense of sturdiness. The use of three different types of brick created a visually appealing texture. A cantilevered corner and a frameless corner window allowed for more natural light and a better view of the garden. This contrast between solidity and openness added interest to the design of the house.
To further enhance the sense of sturdiness and material continuity, the roof terrace of the extension was surfaced in brick. The kitchen was also redesigned with a colourful palette of laminated ply, which added brightness and contemporary energy to the home.
The upper floors of the house were given a cosmetic refresh, with the bathrooms being retiled and the bedroom storage expanded with bespoke laminated cupboards. The existing loft conversion was modernized with new flooring and insulated glazing, making it habitable year-round. The removal of some of the internal partitions also helped to improve the flow and functionality of the space. Overall, these updates added a fresh, modern touch to the house.
A Guide To Remodelling a House
If you're looking to remodel your house, there are a few key steps you'll need to follow to ensure the process goes smoothly.
1. First, make a plan. Before you start tearing down walls or picking out new paint colours, take some time to think about what you want to accomplish with your remodel. What areas of your house do you want to change, and why? Make a list of all the things you want to do, and prioritise them in order of importance.
2. Next, set a budget. Remodelling a house can be expensive, so it's important to have a clear idea of how much you can afford to spend. Consider both the cost of materials and labour when setting your budget, and don't forget to leave some room for unexpected expenses.
3. Once you have a plan and a budget in place, it's time to start gathering materials and hiring contractors. If you're planning on doing some of the work yourself, make sure you have the necessary skills and tools. If you're hiring contractors, shop around and get quotes from several different companies before making a decision.
4. As work begins, make sure to communicate clearly with your contractors. Let them know what your expectations are, and be available to answer any questions they may have. Be prepared for some inevitable setbacks and delays, and try to stay patient and flexible.
5. Finally, as the work nears completion, do a thorough inspection of the finished product. Make sure everything has been done to your satisfaction, and address any issues that need to be resolved.
By following these steps, you can ensure that your house remodel goes smoothly and turns out exactly the way you want it to.
Photos by Andy Sagg