Globally renowned hospitality interiors specialists Goddard Littlefair have just completed a three-bedroom residential client project at Imperial Tower at Chelsea Creek London. The building the apartment resides in has 31-storeys and has been built on new man-made canals. These waterways have been modelled on Copenhagen and Amsterdam landscapes and are the first new man-made canals in London in over 90 years.
The apartment by Goddard Littlefair is currently on the market for £1,945,000. They have managed to bring a well-balanced sense of glamour and opulence to the home, and it is bursting with art and interesting pieces. Goddard Littlefair has also taken inspiration from the dynamic avant-garde fashion history of the area, and the design of the apartment embodies that same spirit while harnessing the nonchalant glamour of Chelsea.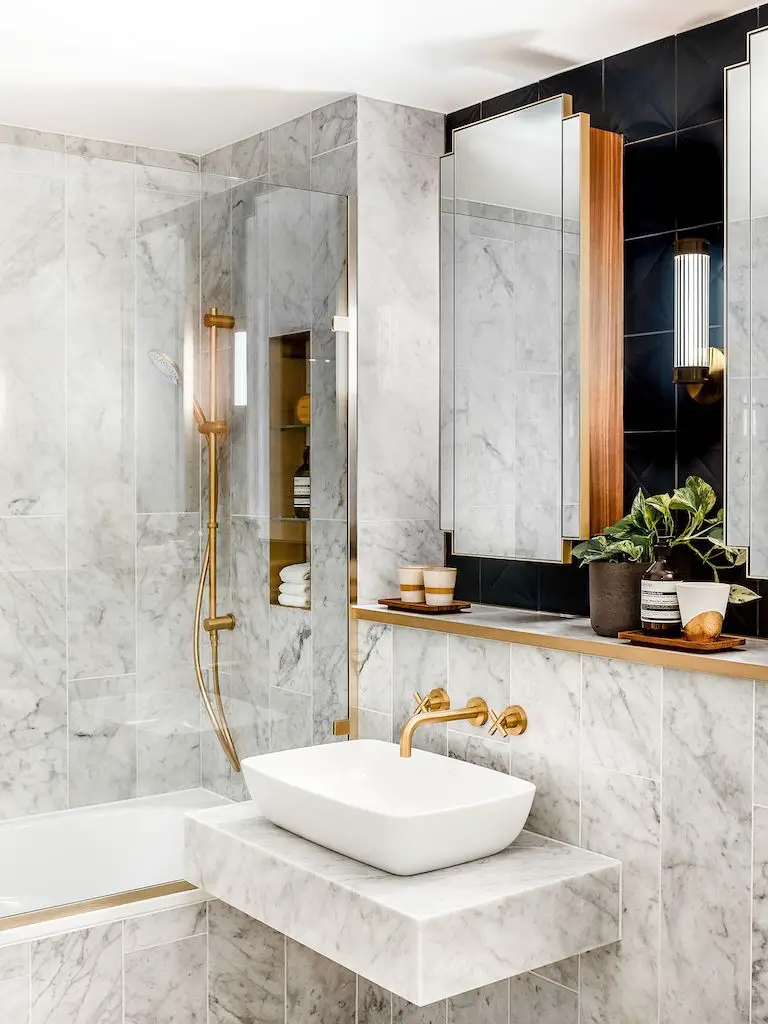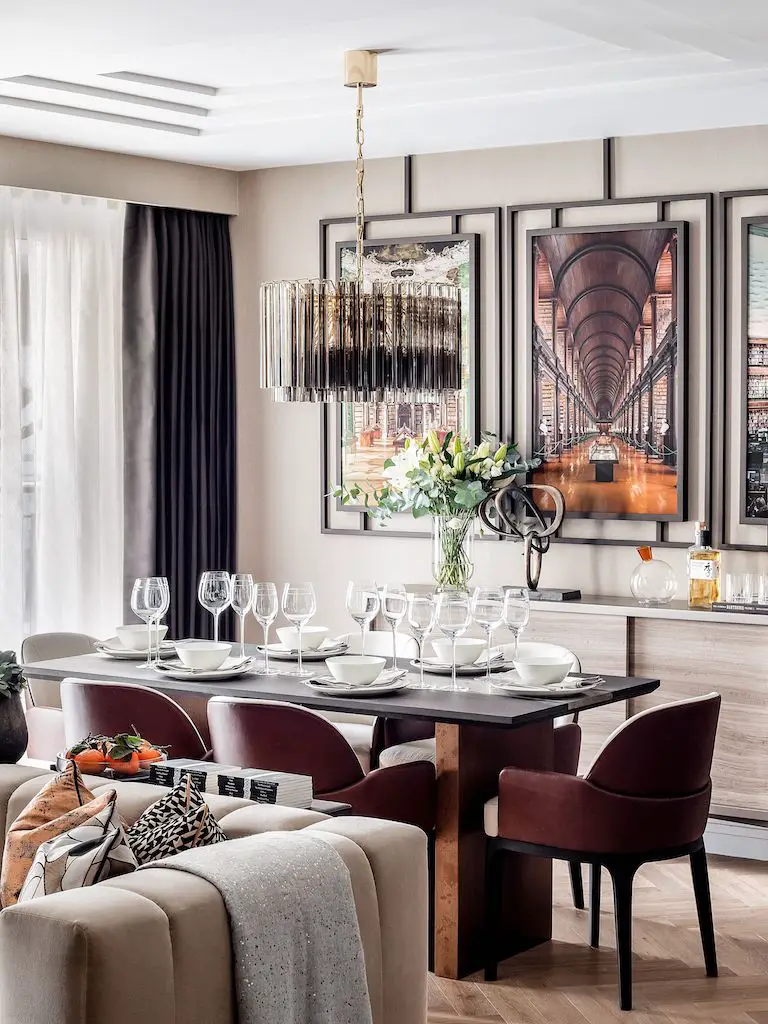 The study is a particularly special place in the apartment, as it has a hint of 1950's film noir and features dark tones, burnt oranges, tans, leathers and brass. It also features stunning artwork by Studio Graphite, which pays tribute to the Thames at the turning point of Chelsea/Fulham.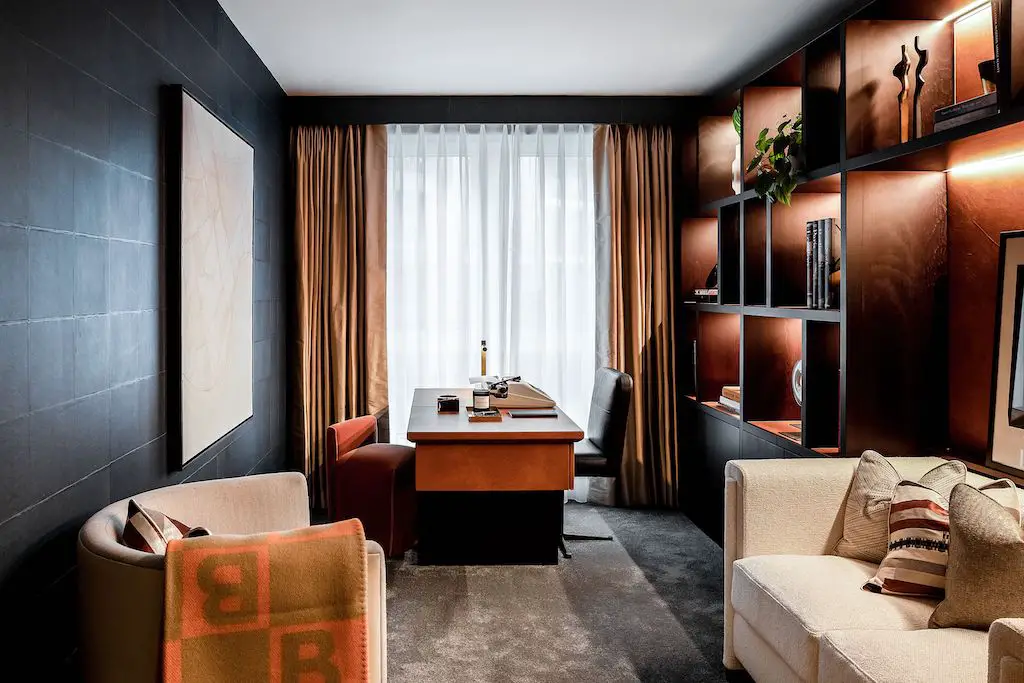 Greenery has also been used throughout the home, and house plants have been placed and selected for their healing properties and health benefits. Goddard Littlefair has managed to bring home comforts like this into the apartment and place them alongside luxurious elements normally found in hotels and restaurants. This has helped to bring hospitality and entertainment glamour into the apartment.
The one-off apartment also features two balconies and benefits from its own bespoke layout.
Jo Littlefair, Co-founder and Director of Goddard Littlefair, comments:
"We have designed a home for a lover of travel, design, collecting wonderful things from around the world and culture, someone who will (when we can) be enjoying the entertainment, shopping and restaurant facilities nearby. As such, the apartments' role in this lifestyle is to be a supportive refuge and a flexible space to work and relax in. The resulting design is sophisticated and contemporary with references to travel, the written word and experience in the creative industries throughout. The colour scheme is calm and neutral with deep golden, amber and rust tones with strong accents in blues and dark oak furniture pieces. Added to this are highlights of brushed brass metallics and figured marbles used in the striking lighting features and decorative accessories throughout."
Measuring circa 1,533 sq. ft, the apartment includes a spacious hallway, open plan living space, two large terraces and three double bedrooms, one of which is dressed as a study in line with current demand.
The entrance hall is welcoming and bright and features light herringbone flooring, an elegant burnt orange velvet bench seat, a wall-hung side table, and a black stained mirror with a high gloss lacquer shelf.
The open-plan living and dining room is also an inviting part of the home and provides a spacious and elegant entertainment space, leading out onto a generous terrace. A fabulous feature of the living space is the bespoke joinery wall, which has been created with rich leather panels, black marble with gold veins, and brass inserts, anchoring the living area to one side of the space.
In the dining area, there is a smoked glass chandelier with polished gold accents from Bella Figura. This has been placed above a dark stained matt timber dining table with an inset brushed silver liquid metal channel and bronze liquid metal base, surrounded by six leather-wrapped dining chairs.
Behind the dining table are a series of images in burnished bronze frames, and they feature St Gallen in Switzerland, Trinity College in Dublin, and Stockholm public library.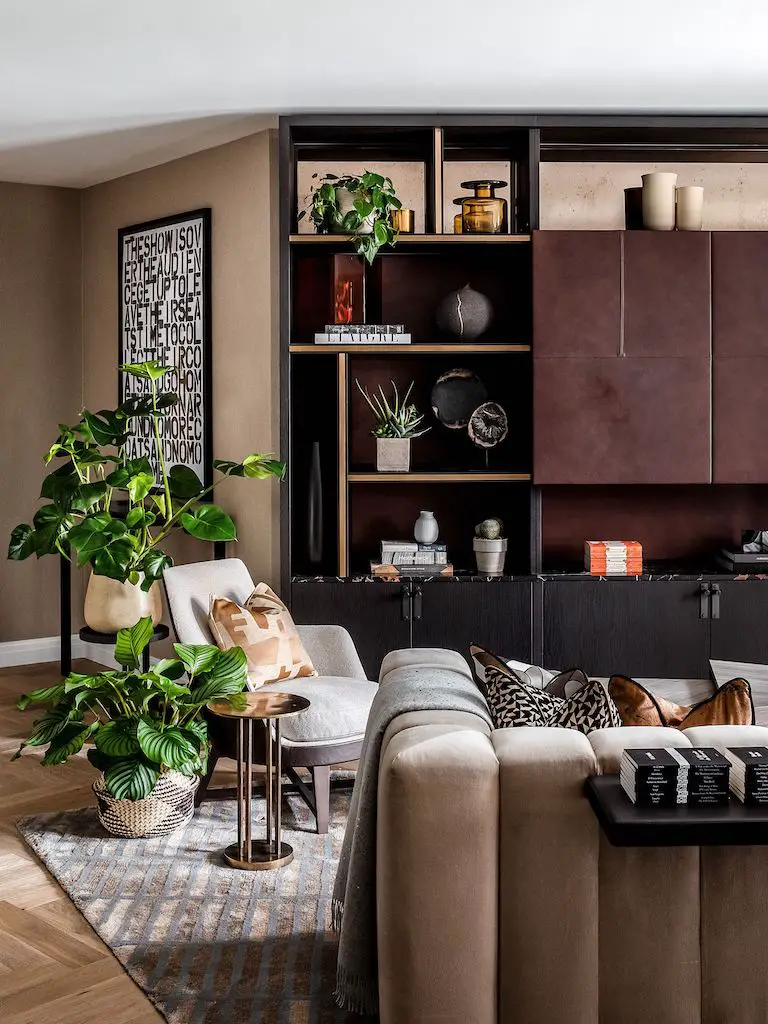 From the living space you can reach the large private terrace by going through stunning floor to ceiling glass doors.
The master bedroom is a calming space and has classy and chic elements throughout. Dramatic brushed brass pendants hang on either side of the bed, keeping the black marble-topped nightstands clear while creating a sense of harmony through their perfect symmetry. On the wall, you will find artwork by Andy Warhol, which consists of nine 1975 limited edition postcards depicting Mick Jagger.
The guest bedroom features darker tones and comprises dark brown wallpaper with hand-painted metallic gold squares by Studio Graphite, a tan leather bed headboard, and bespoke bedside tables in matt ebony-stained oak with brushed brass detailing. The hanging pendants are bespoke brass and frosted glass, made in Chesterfield. Chelsea's swinging sixties nostalgia is hinted at again through the black and white photography by Cecil Beaton for Vogue magazine.
Jo adds:
"Working from home has become second nature and seeing this trend set to continue beyond the restrictions of the current climate, we dressed one room as a dedicated study offering a flexible solution for a couple to co-exist with a double-sided leather-wrapped desk served by a chair and pull up stool while there is ample room for a comfortable sofa and plentiful storage again provided by a bespoke fitted joinery unit. Rich amber coloured leather-wrapped onto shelves and panels provides a warm ambience to the room while the wall colour itself is bravely dark, expressing that creative and slightly daring ambition for the apartment."
Residents of The Imperial also have access to state-of-the-art amenities including a cinema room, wellness centre, modern gym, spa, indoor heated pool, treatment room, rain shower, and Scandinavian-style sauna and steam room. Local amenities and attractions include a farmer's market, an artisan coffee shop, the Saatchi Gallery and Chelsea Physic Garden.
For more information, please visit www.goddardlittlefair.com.