Mayfair-based Luxury property developer The Door has appointed renowned interior design company Andrew Henry Interiors to transform a recently renovated three-bedroom triplex home on one of the capital's most prestigious streets in Mayfair. Founded in 2007, Luxe by Andrew Henry Interiors is an award-winning luxury interior design studio with a reputation for designing some of the most beautiful show homes.
Russell Prince, founder of The Door comments:
Andrew Henry Interiors came highly recommended to us. They worked on two projects simultaneously, which could not have been more different from the other.The first was the luxurious triplex apartment in South Molton Street, Mayfair which we have recently completed to provide a unique home for the most discerning of buyers.Andrew and his team were great to work with, their service, value for money and attention to detail was first class and both interior design schemes have surpassed our expectations.
The team at Andrew Henry Interiors wanted to ensure that the expansive living space was flexible and maximised versatility. To do this, they created different zones throughout the house such as an informal room near where one can cook or entertain guests easily with their Poliform kitchen. The area around this circular veined marble table has been defined by curved rugs which have been placed under the statement bespoke sofa and matching pouffe. Upholstered in white boucle, it adds texture whilst two armchairs are upholstered.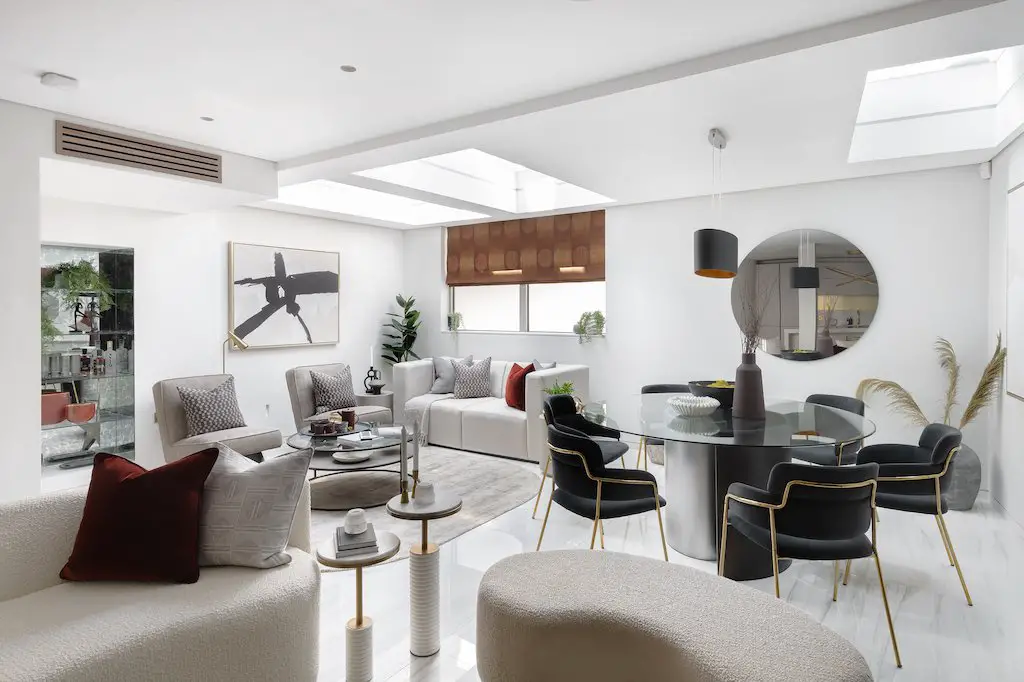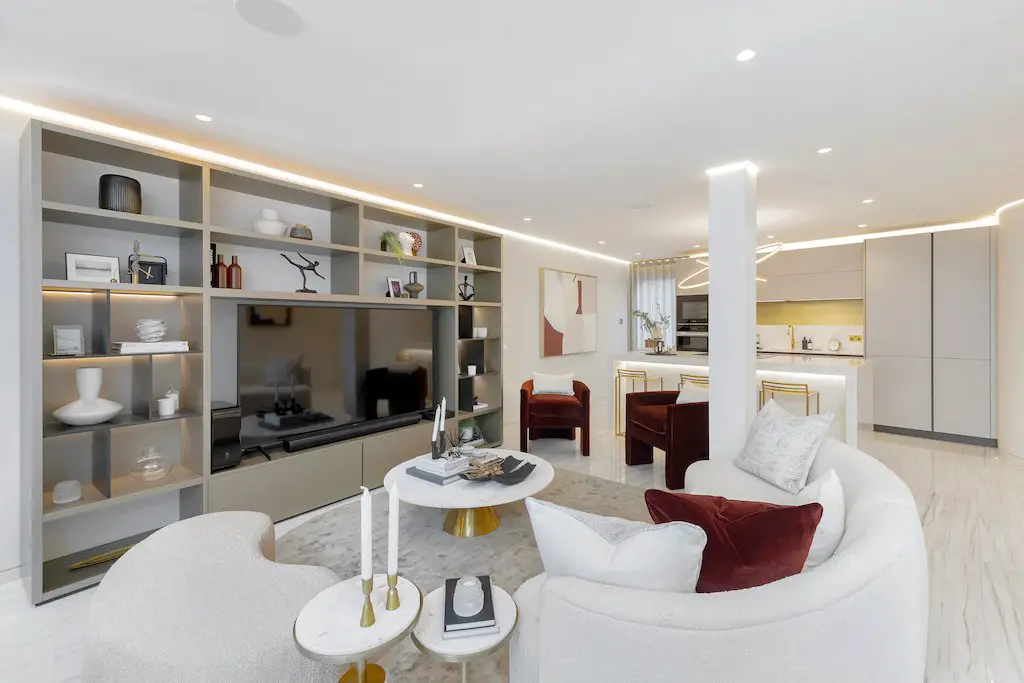 The second zone features electronically opening roof lights, which are designed to act as a relaxing garden room space. The square edges differentiate this seating corner and impressive artificial plants compensate for the limited outdoor area within the property – two large olive trees (a nice change from some houses' outdoor space).
The dining area is a great spot to enjoy food with friends and family. A black pendant light from Andrew Martin hangs over this beautiful round table, decorated in burnished gold interior design elements like the frame itself as well as its seats upholstered in luxurious charcoal velvet perfect for any occasion!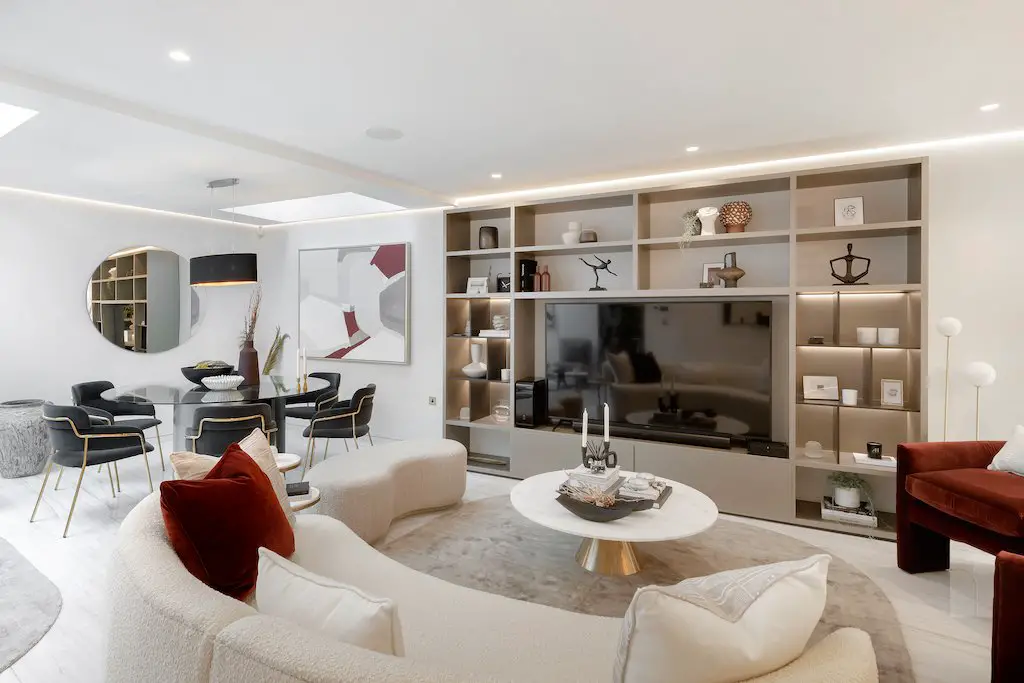 The vast open-plan living space is bustling with life, thanks to a talented member of the Andrew Henry Interiors team who crafted bespoke artworks in the form of hand-painted canvases. They adorn all walls throughout and create an elegant feel that ties each zone together for a cohesive style statement.
The bedrooms were a challenge because they were on the upper floors and had restricted access due to a smaller staircase. The team solved this by selecting bespoke fabric headboards that gave each room an air of grandeur, while also adding comfort.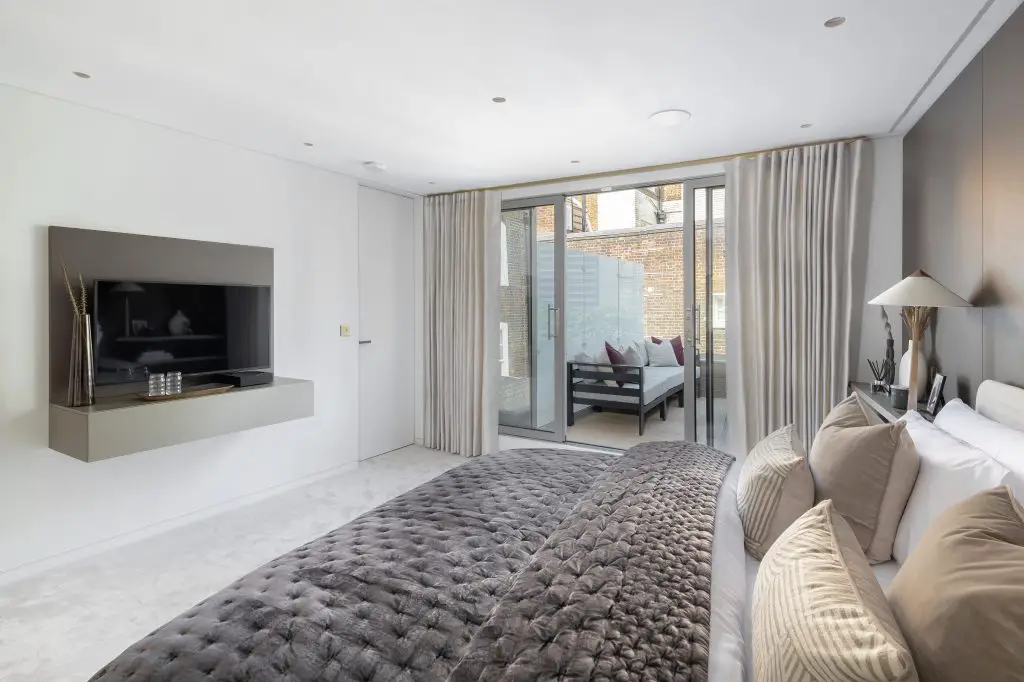 The master bedroom features a poliform upholstered taupe textured weave bed and bespoke fabric scatter cushions in different shapes, sizes and textures that create interest. Delicate bedside lamps on either side of the bed provide stylish low lighting with their unusual sculptural stems topped by trendy coolie-style shades for added flair! A unique stool rests underneath an shargreen dresser before we transformed it into your own personal sanctuary where you can enjoy some well deserved "me" time after those long days at work or school.
The bedroom is a showstopper with its interesting interior books and sculptured accessories. The en-suite bathroom would make any five-star hotel proud, as it features an egg shaped bathtub made of marble to seem like nothing else on earth!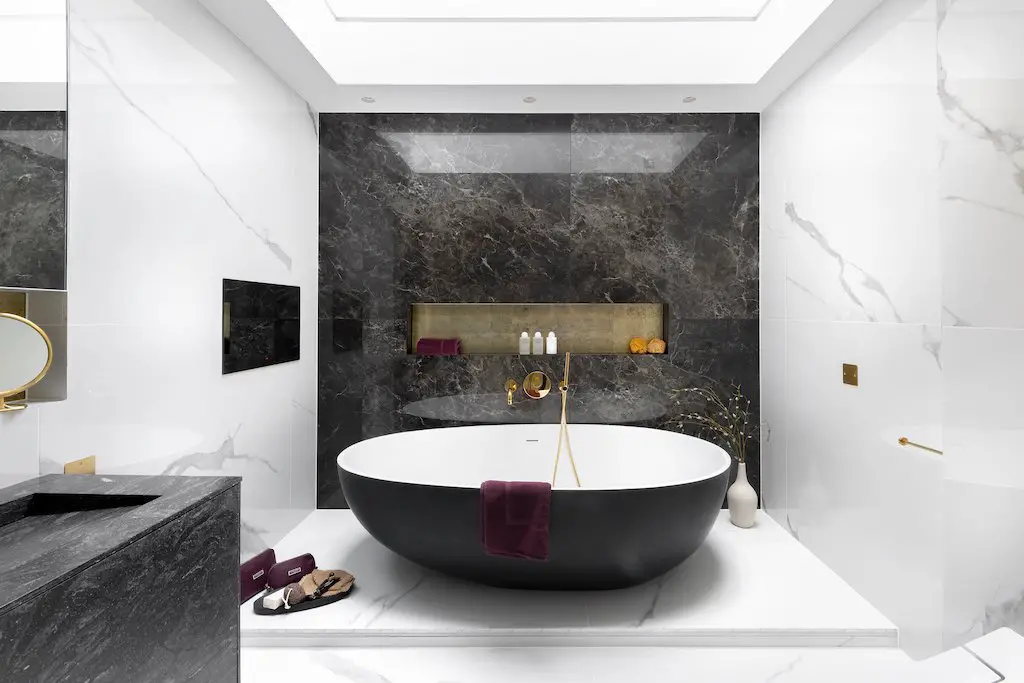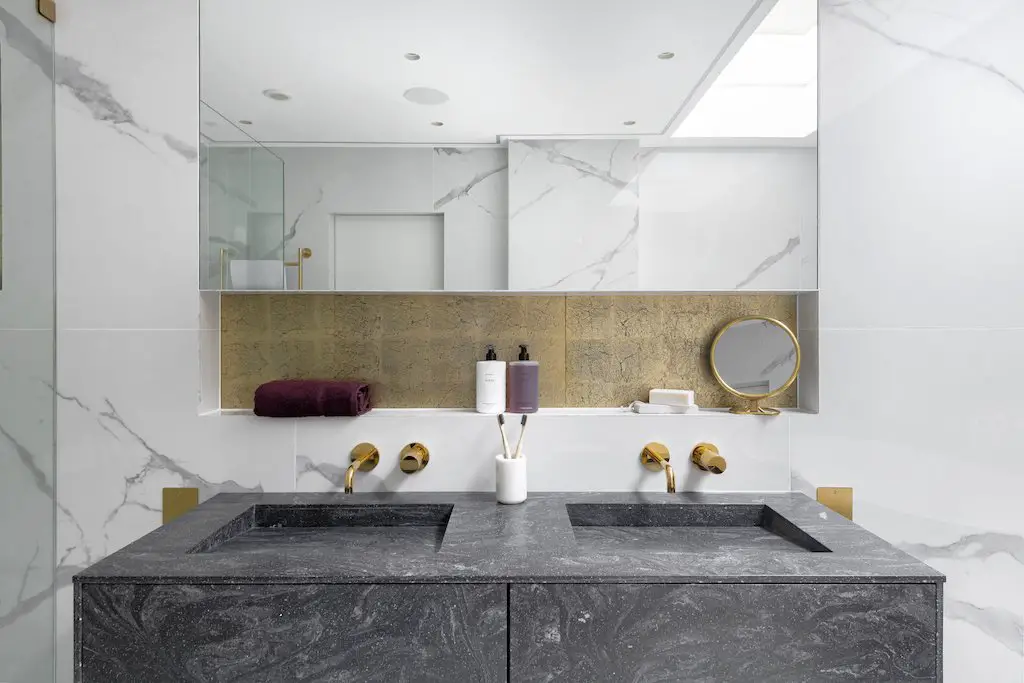 The guest bedroom suite in the triplex is an inviting retreat. With heavy cream silk bed throws, fusing together what was already there with that red velvet to create richness and tall brass mushroom lamps for light throughout this property!
The third double bedroom is designed to create a more casual and informal setting. The oval shaped headboard, mirror as well geometric fabrics are truly the highlights here because they bring this space into playfulness without being too overwhelming or overpowering. A small desk area has been incorporated using an old brushed bleached wood table which elevates it even further aesthetically while still showcasing how you can make use of each nook in your home!
The property's hallways have been transformed into an inner-city oasis with statement artwork and large mirrors. There is also a roof terrace that can be accessed from one of the bedrooms in order to provide you with some outdoor space.
The Andrew Henry Interiors team have dressed the space with anthracite terrace furniture and accessorised oversized pots to create an inviting ambiance. They've also decorated it by incorporating russet accent colours via scatter cushions, seamlessly linking their outside decorating style inside as well!