In London, it is normally seen as a luxury to have a large garden, but many people enjoy having a small space as it tends to need less maintenance and is easier to manage. Despite the positives of having a small garden, it can be hard to know how to maximise and incorporate different aspects of garden design into your outdoor space. Because of this, we have created a list of the top 7 small garden design ideas:
1. Rattan Corner Sofa Garden Furniture Set
Make your garden feel like a mini vacation with the Garden Patio Outdoor Furniture Set. This furniture set is designed to be the perfect solution for your garden. The centre tea and coffee table provide the perfect spot to enjoy a cup of tea and a book while lounging outdoors or to display finger foods and hors d'oeuvres when entertaining. The table is made with shatter-resistant thick glass. You can customize the Outdoor Furniture Set to match your style, with a charming neutral colour palette that can be easily integrated into any scheme.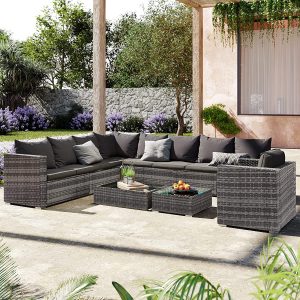 2. Outdoor Patio Furniture Set 4 Chairs Table Garden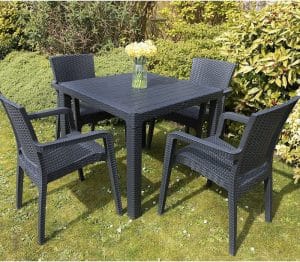 The 5Pcs Garden Furniture Set is a great addition to your garden from our new collection. It's made from strong and durable plastic that has been designed to look like rattan. The set includes four chairs and a table. Please note that this garden set is brand new and made of modern plastic in a rattan style. The grey colour of the set makes it easy to clean and store, and the chairs are stackable for added convenience. The dimensions of the set are as follows: Chair (L)57.5cm x(W)59.5cm x (H)86cm, stackable Table (L) 90cm x (W) 90cm x (H) 73.5cm, with a hole for a parasol 34mm. The legs of the table can simply be inserted into the table top without the need for any fixings, and the height of the table is adjustable.
3. Outdoor Interiors Eucalyptus 3Piece Square Bistro Outdoor Furniture Set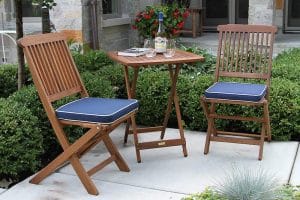 The fully assembled garden furniture set folds for easy storage. The dimensions of the table are 23.5″ in diameter and 28.5″ in height, while the dimensions of the chairs are 15.5″ deep, 18″ wide, 36″ in height, and 19.5″ seat height. The set has a brown stain finish that can be maintained by applying oil to it two times per year. This will help preserve the finish and ensure that you can enjoy the set for many years to come.
4. GADINO 2 pcs Grey rattan footstool patio outdoor rattan garden furniture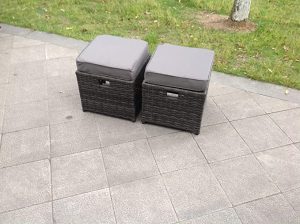 The Flatpack rattan small square footstool is handmade and built to last. It is constructed with a powder-coated metal frame and can be used outdoors year-round. The colour may appear slightly different due to lighting conditions. This item comes fully assembled and has a size of 40x40x35CM. The cushion has a thickness of 9CM.
5. Weatherproof 7 PC Rattan Garden Furniture Outdoor Patio 6 seater Dining Bar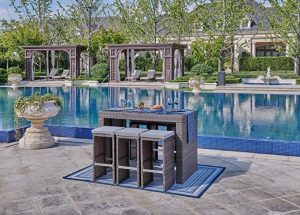 The rattan set is made from low-maintenance Poly rattan that is resistant to dirt, easy to clean, and protected from UV rays. Simply wipe it with a damp cloth to keep it looking like new. This set is suitable for both indoor and outdoor use, and its comfortable and sturdy design makes it perfect for relaxing, entertaining, or enjoying the outdoors in your conservatory or garden. The set is lightweight but sturdy, and the table has a tempered safety glass top for your food and drinks. The cube set comes with instructions for self-assembly.
6. All Weather Chair Cushions for Garden Patio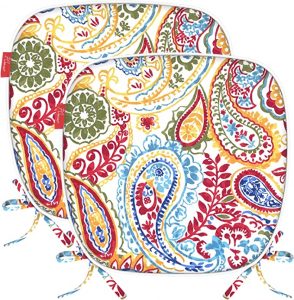 These seat cushions are not only suitable for indoor use, such as on dining chairs in the kitchen, but they are also perfect for use with garden patio furniture. They are a great decorative addition to your home, and you will love them from the moment you receive them.
7. Dawsons Living Faux Rattan Bistro Set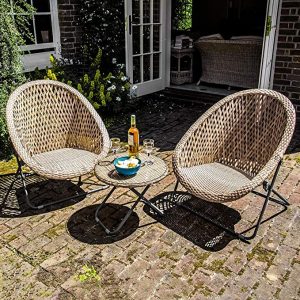 The faux rattan bistro set is a great addition to any garden. It is available in a wide range of colours, so you can easily find the one that best suits your outdoor space. The set is weather-resistant, so you don't have to worry about the elements damaging it. The synthetic rattan weave and rust-resistant frame make it suitable for use both indoors and outdoors. This set is a durable and stylish choice for your garden or patio.