The ornate architecture, intricate detailing, and rich history of Victorian houses make them a beloved and sought-after piece of real estate. But as with any renovation project, renovating a Victorian home comes with its own set of unique challenges and considerations. From preserving historical features to modernising for functionality, it takes a skilled hand and a keen eye to balance the old with the new.
In 2020 Brosh Architects renovated an end-of-terrace home to bring back its old charm. This renovation was not about the interior design or how it would look. It was about bringing back the charm to an old, dark and tired home. The renovation took place on an Early Victorian 'End-of-terrace' house which was in desperate need of modernisation and restoration work.
The house had not been renovated since the 1980s and was very plain with an unfinished look. It also lost most of its original period charm due to many renovations throughout the years. The aim of this project was to upgrade it so that it can be modernised while still retaining some sense of history from when it was built 200 years ago. We used distressed oak flooring in old English finish stain which would make you think that these floors have existed here for at least two centuries already!
The house was designed by the Georgians so we wanted to use colours that would match this era. We decided on different shades of blue and green for both walls as well as underfloor heating in some rooms, while using period-style radiators throughout other floors. Spotlights were completely avoided with concealed lighting such as strip lights hidden within furniture instead used where needed or desired – especially at night time when not all areas are occupied simultaneously. For times like these, pendants, wall lamps and ceiling fixtures also served their purpose through non-concealed light sources which emitted a soft glow across interior spaces during the evenings before being turned off once everyone has gone to bed.
We removed the 1980's step tiles and fitted Portland stone stairs to match the rest of the street. The side extension roof terrace was only accessible from the street so it never got used by its owner but instead became a place for people walking down our quaint, old-fashioned street to relieve themselves on! We disconnected the street access and made the terrace accessible only from the new office room through the window nook which was integrated within the office library.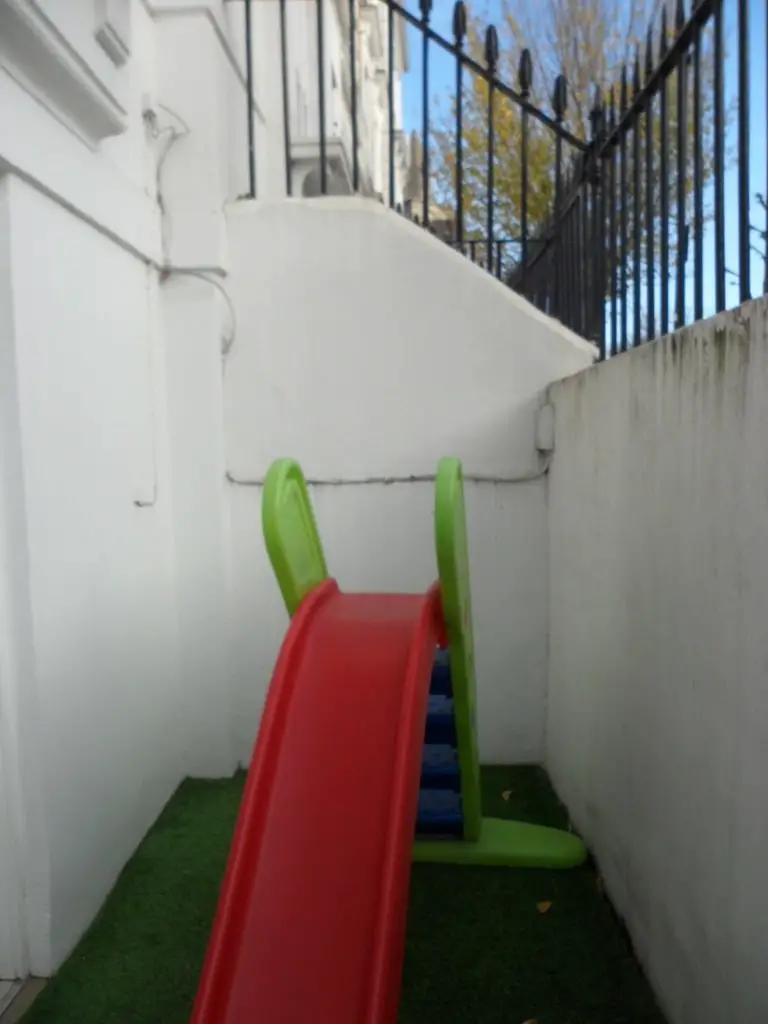 We replaced the old staircase with one that matched the original design for better air flow and natural light. The kitchen was also redesigned to create a bigger landing, which lead up to an office terrace overlooking our beautiful property! With a new, much bigger skylight and an open courtyard area that connects the family room to the garden, this kitchen is so full of life! The WC was also updated with a secret door for extra privacy.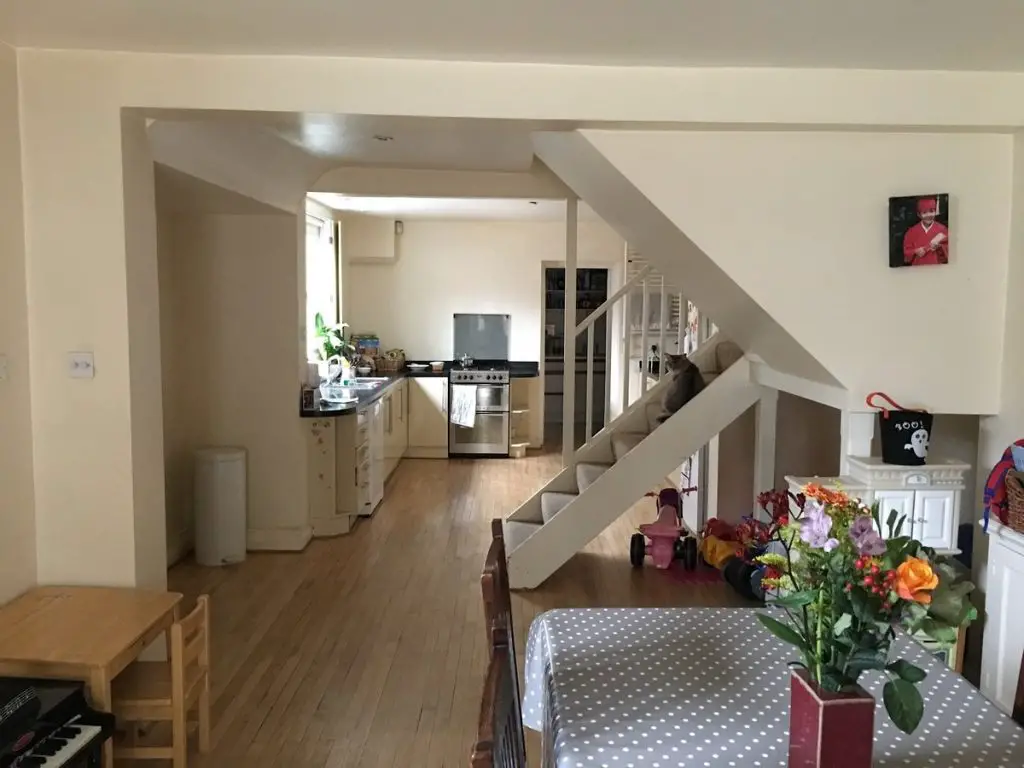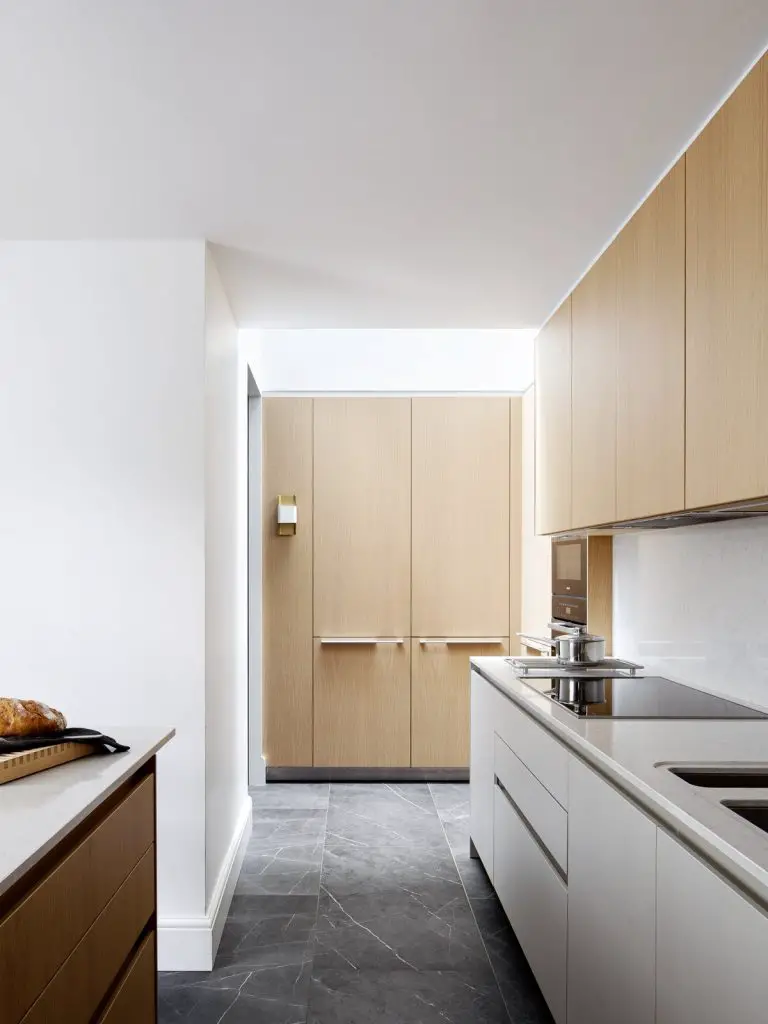 We kept the same layout of the upper ground floor and made it more accessible while upgrading our main entrance hall with storage space for coats, shoes, keys… you name it. We also had a guest room which we transformed into an office that was complete with a library, a reading nook (ideal to curl up in!), and a private terrace perfect for some afternoon tea or morning coffee! The formal living room now has many layers of paint stripped away revealing its original wood features. These were then re-painted so they would stand out even better against their surroundings – creating new joinery at each side of fireplace as well as installing Venetian mirrors all around to make this spacious area seem larger than life itself!
The whole first floor was designed purely for the client to have a luxurious space with the best start and end to their day. The first floor of the house was designed to give its occupants a luxurious start and end to their day. The bedroom had only one bed, no wardrobes, while the other room housed a bathroom with a free-standing bathtub and shower along with a separate wardrobe.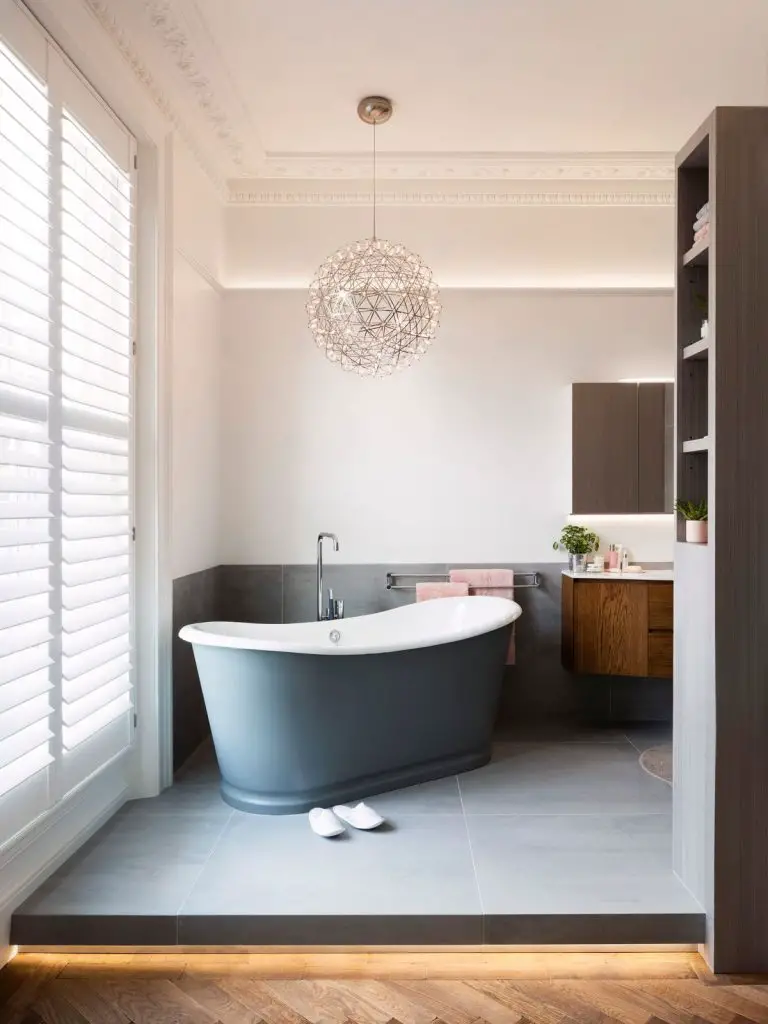 Environmental impact
One of the ways in which our company minimises environmental impact is by always keeping demolition and waste as minimal as possible. Compare, for example, before-and-after layouts to see that apart from a new window and some widened openings up high on two floors, we managed to renovate this entire house with hardly any demolishing or disposal! In fact, there was so little waste, single pieces of wooden flooring here or there but I can't even remember what they were used for that it wasn't worth hiring an outside contractor such as a skip driver at all.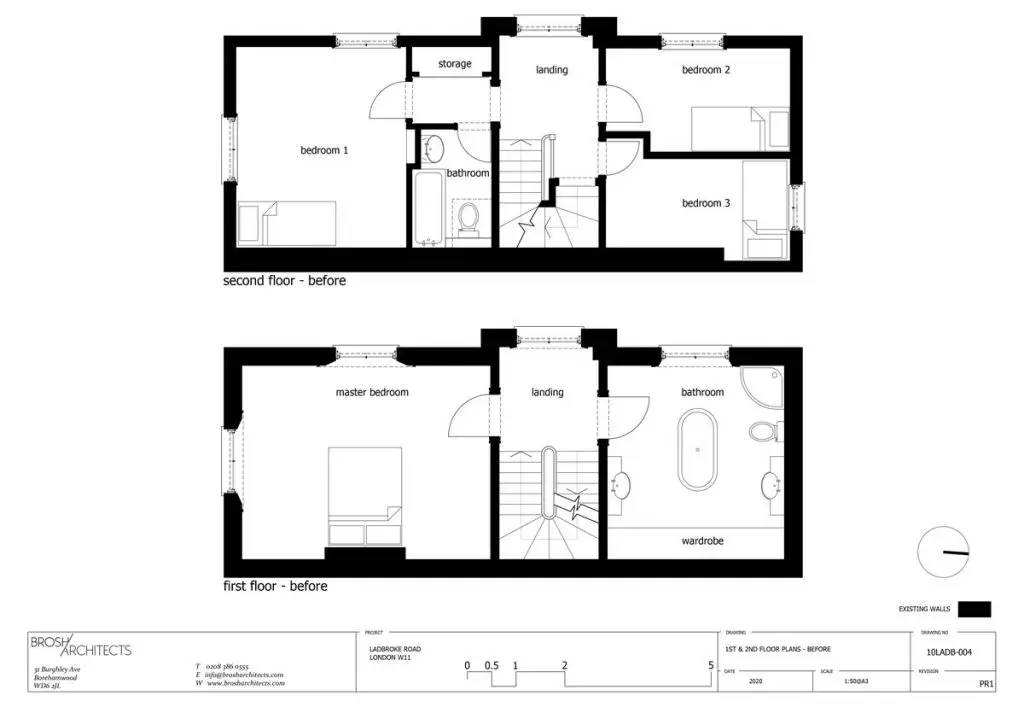 Details
| | |
| --- | --- |
| Project size | 195 m2 |
| Site size | 88 m2 |
| Completion date | 2020 |
| Building levels | 4 |
Photography by Ollie Hammick