Designing and building a new home can be an exciting and rewarding experience, but it can also be a daunting task. With careful planning and attention to detail, you can create a space that meets your needs and reflects your personal style.
The clients purchased the site with an existing bungalow occupying the plot. The existing house has had little architectural merit. We saw an opportunity to build a new unequivocally contemporary home. The constructed design comprises a 400m2 main house occupying two floors and a distinct garden building of 110m2 which includes an indoor swimming pool.
The house is a sleek, stylish, and modern 21st-century house. With every detail finely honed, the house is a shining example of carefully-considered architecture and precisely-detailed construction.

A double-height hallway design allows the south-facing winter sun to be brought into the living spaces on the ground floor. This double-height glass helps ensure that the use of heating in the winter is minimised and that natural light is plentiful. In the summer, unwanted sun gains are shaded by the fact the glazing is set back in a deep reveal with an overhang. This deep reveal also helps provide fenestration to the facade and ensures that the double-height glazing is less prominent. The central kitchen/living/dining space is the focus of the house.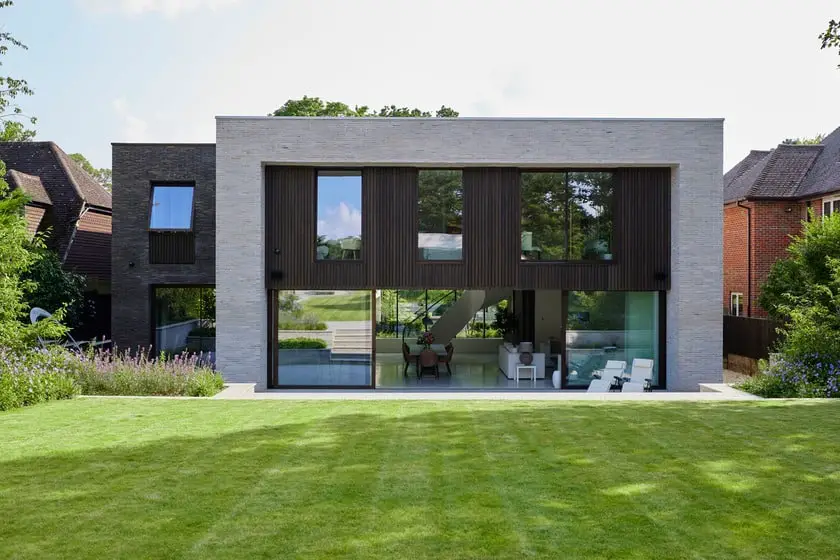 Within this arrangement, the property has achieved an outstanding level of spatial variety and sequence. The route from the entrance passes through a small, dark-panelled hallway straight into a double-height, roof-lit atrium before entering the full-width living space and addressing the stunning garden views. This is classic compression-and-release but the effect is not lost on even the initiated.
The materials have been selected to fit a muted palette of greys and soft Scandinavian tones; their texture varying from rough brick through dark stained Western red cedar to polished grey concrete. Detailing is minimal and clinical.
This property deals with the challenge of being a comfortable, luxury family home while accomplishing the client's sustainable responsibility in an elegant, mature and replicable way.