In the esteemed enclave of Brook Green, a landmark Victorian residence has been meticulously reimagined, yielding a sanctuary of sophistication and modern luxury. On the market for £3.825 million through distinguished estate agents Finlay Brewer, this substantial four-bedroom property extends across four levels, offering in excess of 2,500 sq. ft. of refined living space.
Purchasing a recently refurbished Victorian home marries the allure of historical architecture with the effortless comfort of modern living. A meticulous renovation honors the property's original character, while state-of-the-art upgrades cater to contemporary tastes and necessities. Buyers will find themselves enveloped in the charm and elegance of period features, alongside enjoying the peace of mind that comes with new installations and finishes. Energy efficiency is often dramatically improved in such homes, while the bespoke modern touches ensure a luxurious lifestyle that meets the highest standards of today's living. Acquiring a house like this not only offers a unique and aesthetically pleasing living space but also represents a sound investment in a piece of architectural heritage that has been adapted to meet the future head-on.
This residence distinguishes itself as one of only two double-fronted houses on its picturesque street. The property has undergone a comprehensive transformation, culminating in a living environment that epitomises the pinnacle of design and comfort.
The architectural metamorphosis is most notable on the lower ground floor, which now presents an expansive open-plan living area. Here, herringbone flooring crafted from natural wood harmonises with abundant natural light from front-facing bay windows and rear glass panels. The space is anchored by a custom kitchen, boasting a marble-topped island and breakfast bar, discreetly integrated utility spaces, and a guest cloakroom.
Beyond the interior lies a thoughtfully landscaped garden, a composition of stone, greenery, and tasteful seating arrangements, all under the canopy of London's sky—a testament to the home's marriage of interior excellence and outdoor serenity.
Connectivity within the home is facilitated by an elegantly appointed central staircase, leading to the raised ground floor where the aesthetic interplay of dark oak flooring, contemporary fireplaces, and sophisticated lighting is evident. The integration of storage solutions and a secluded study enhances the home's practicality without compromising its stately appeal.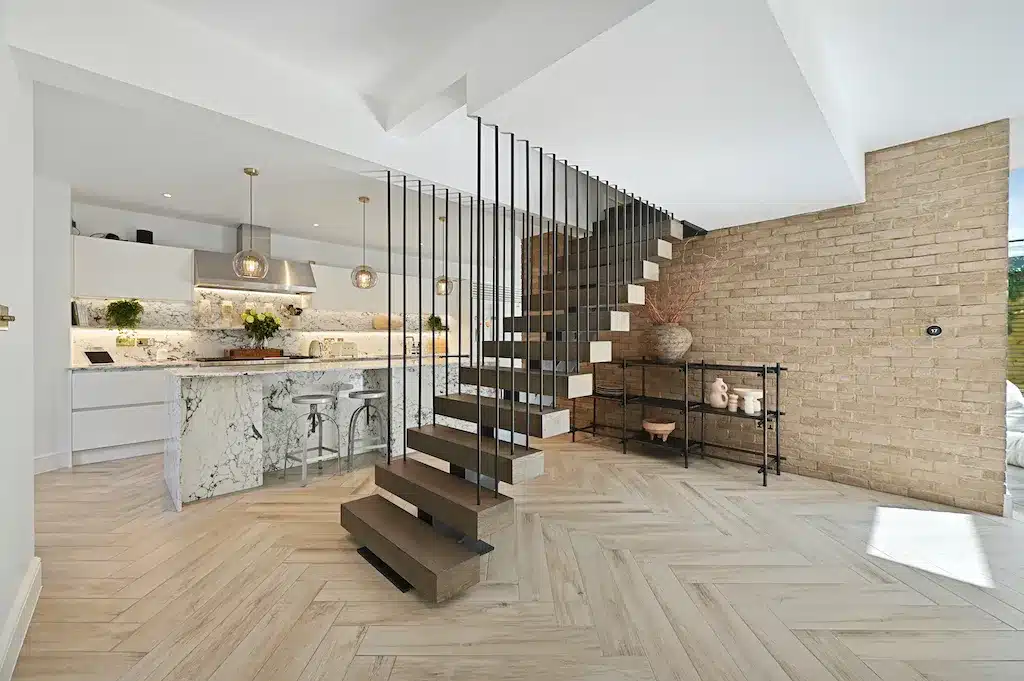 Occupying the upper floors are the private quarters: four bedrooms, each a statement of minimalistic elegance, complemented by a bathroom and shower room that echo the home's overarching theme of modernity and style.
Paul Cosgrove, Director at Finlay Brewer, offers his perspective on the property: "The extensive refurbishment has been executed with a discerning eye for detail, ensuring each element of the home not only meets but exceeds the expectations of the contemporary purchaser. Ready for immediate occupation, this property stands as a testament to how well-appointed spaces can seamlessly integrate state-of-the-art amenities while retaining an inviting ambience."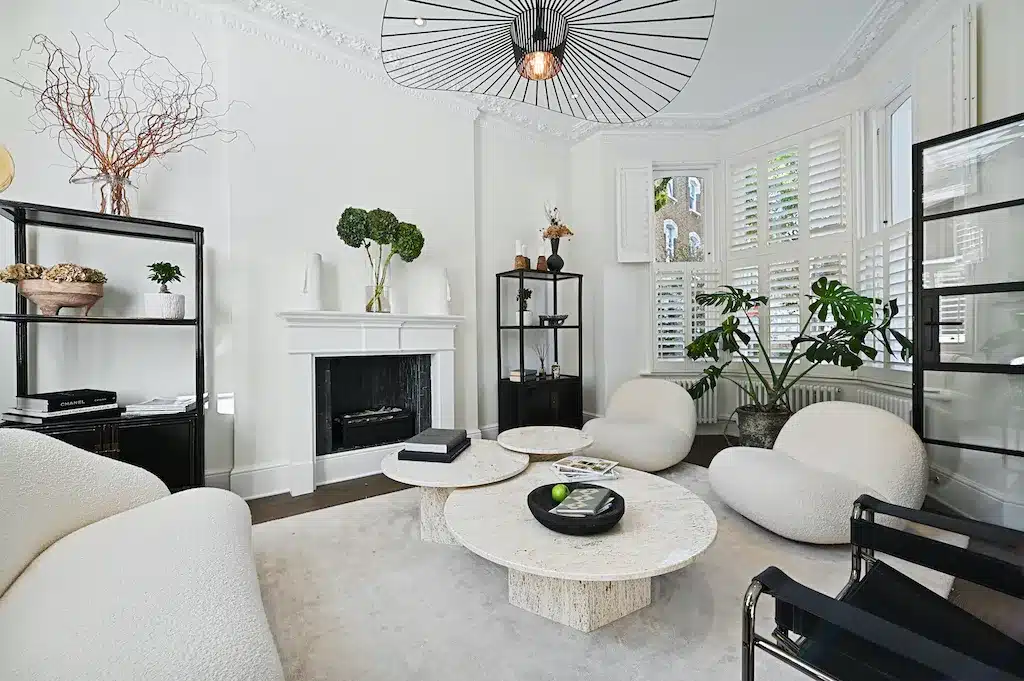 The residence is enviably positioned near Brook Green's verdant expanse, replete with recreational facilities and a weekend market that forms the heart of the community. With proximate access to key transport links including the Hammersmith Underground, the property is as well-connected as it is private.
Viewing opportunities for this exceptional Sterndale Road property are arranged strictly by appointment, inviting prospective buyers to experience first-hand the intersection of Victorian grandeur and modern refinement. For further inquiry or to arrange a viewing, contact Finlay Brewer or visit their website for more information.