London is a bustling city with a rich history and vibrant culture. It is also home to some of the most luxurious and desirable apartment buildings in the world. These apartments offer residents the opportunity to live in the heart of the city, surrounded by world-class amenities and breathtaking views. Whether you are looking for a spacious penthouse with panoramic views of the city skyline or a cozy flat in a trendy neighborhood, London has a wide variety of luxury apartment options to suit your needs and preferences.
Northacre, a renowned leader in super-prime property development for the past three decades, is proud to introduce the launch of their latest penthouse on The Broadway at Orchard Place. Situated in Westminster's historical centre, The Broadway provides a stimulating urban atmosphere with luxurious residential, commercial and retail spaces.
Key Features include:
Exquisitely designed functional kitchens with state-of-the-art appliances and Italian marble worktops
Highly-specified bathrooms with Corian baths and basins, and Italian marble throughout.
Luxurious fitted wardrobes in bedrooms and entrance halls
Zoned underfloor heating in principal rooms
Comfort cooling in principal rooms
Engineered oak flooring throughout
24hr security and concierge
Two Residents' Lobbies
Two Meeting rooms
Secure underground parking
Games / Screening room
The state-of-the-art fitness and wellness facilities are unparalleled. The fully-equipped gym, personal training rooms, and yoga/stretch rooms provide the perfect space to maintain your fitness routine. Residents can unwind by the 25 metre pool on comfortable loungers, creating a true oasis in the midst of the hustle and bustle of the city. The vitality pool and steam room offer additional opportunities for relaxation and rejuvenation.
In addition to 258 one-to-five bedroom apartments and penthouses equipped with state-of-the-art British design innovation, the top 16th floor penthouse showcases 360 degree panoramic views of London and an expansive 1,300 sq ft wrap-around roof terrace. The penthouse show apartment features a carefully-crafted transitional design with contemporary elements, mid-century inspired curves and touches of warmth. True to the vision of The Broadway at Orchard Place, this space is adorned with antiques from across the country and bespoke pieces to really give it character. The scheme was influenced by an Italian twenieth-century Scagliola plinth, which set the tone for soft green hues throughout the space – focusing on a contemporary wellness theme.
About The Broadway at Orchard Place
The Broadway SW1 offers four bedrooms, each carefully designed with shades of cream and white, to create a calming and peaceful atmosphere. Every detail has been tailored to bring out the best in the rooms, from the cushions, headboards and lighting features, to the artwork and antiques sourced primarily from Lawford Antiques, Cramer & Bell and 8 Holland Street. The 3,218 sq ft penthouse comes with three seating arrangements that are perfect for entertaining guests.
This luxurious residence was crafted with inspirations from the Art Deco features of 55 Broadway – once London's tallest building when it was built in 1929 – adjacent to the property. To bring forth an authentic feel to the development, Northacre Properties partnered up with Squire and Partners to study delightful 1920s jewellery designs as well as its modernized interpretations.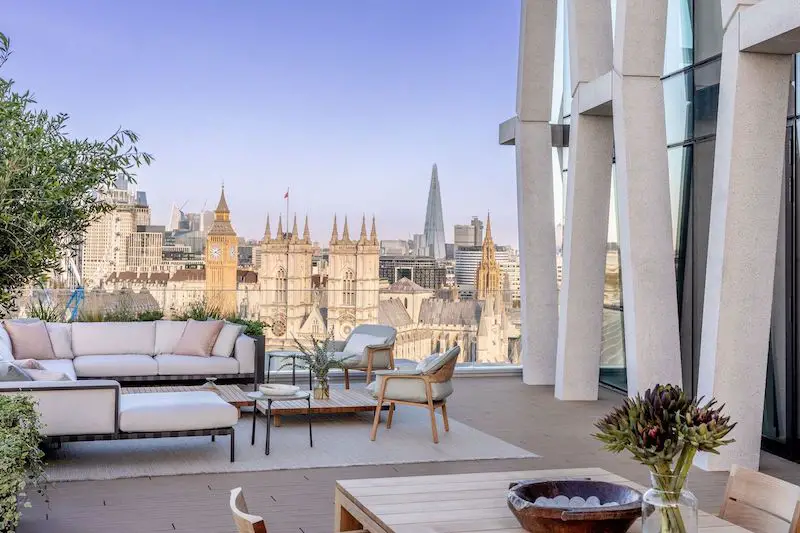 The Broadway provides 16,000 square feet of health, fitness and spa amenities that afford residents the chance to relax and recharge in an exceptional setting. Facilities include an elegant 25m pool, gym and personal training studio, treatment rooms and a spacious, state-of-the-art games room, that can be booked by residents as additional entertainment space, alongside well-equipped meeting rooms, screening room and extensive parking.
As the area evolves into a new thriving business and leisure district for London centred around contemporary wellness, The Broadway will add 116,000 square feet of state-of-the-art office space alongside its 27,000 square feet retail collection. The destination aims to create a sense of place and community through its dynamic new street, Orchard Place, which will provide 20,000 square feet of new public realm to the area. The site of The Broadway once served as home to the verdant orchards of Westminster Abbey. Soon it will provide a thoughtfully landscaped new street and two beautiful fourth-floor sky gardens, which will link the six residential buildings and provide an urban oasis above the bustle below for residents to enjoy.

By creating something that seamlessly integrates with the lives of London's inhabitants and the city around it, The Broadway will bring something entirely new into the heart of one of London's most historic areas and reflect traditional British luxury but reinvented.

The apartments range in price from £1.75m to POA and are available for immediate viewings.