When it comes to picking a sofa, it is important that you find one which is practical and does not take up too much space. Most people tend to opt for an l-shaped corner sofa, but it is also important to consider other options, such as a stylish and colourful 2 – 3 seater sofa which you can match to your dining table chairs.
If you also want somewhere for your guests to sleep and do not have enough space for a guest bedroom, a sofa bed can also be a great option for your living room.
Aside from the style of your sofa, it is also important to consider the colour, texture and longevity of your sofa and how it will fit into your home.
Because all of these factors can make deciding on a sofa a hard task, we have compiled a list of the top 10 sofas to buy in 20213
Rene 3 Seater Fabric Sofa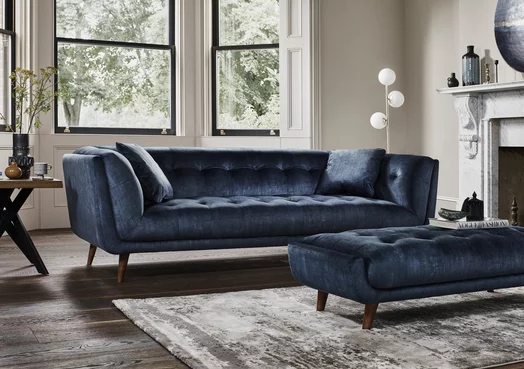 The Rene range is perfect for those who want a chic and stylish interior. Featuring a modern glamour and retro design, these contemporary sofas, armchairs, and footstools are available in both velvet and leather. The beautifully buttoned upholstery comes in a range of colors, and the pocket sprung seating and supportive cushioning provide a comfortable and lounge-worthy experience. This range is only available at Furniture Village.
Check Price on Furniture Village
---
Touch 3 Seater Heavy Duty Fabric Sofa
The Touch collection offers sofas and chairs with softly curved designs and exceptional comfort. The high backs, padded arms, and deep cushions provide a cocoon-like feeling, while the strong frames and no-sag spring seats ensure durability. What sets these pieces apart is their exceptionally soft fabric or leather upholstery, which comes in a range of colours to suit your style. You can also choose to add optional manual or power recliners with USB ports for an even more comfortable experience.
Check Price Furniture Village
---
Emilia Large U-Shaped Corner Sofa
The Emilia range is designed for ultimate relaxation, with sprung seats and plush cushions that provide a comforting embrace. The soft hopsack chenille upholstery is a pleasure to touch, and the dark wood feet and curved cushioned arms add a touch of elegance. The reversible back cushions also help to reduce wear and extend the life of your sofa or chair. All items in the Emilia range are handcrafted in the UK and available with fast delivery from Furniture Village.
Check Price on Furniture Village
---
Serento 3 Seater Leather Sofa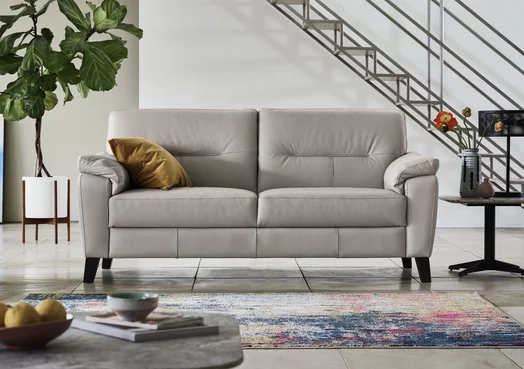 The Serento range brings contemporary Italian style to your home. The soft, deep foam cushioning provides comfort and support, and the 100% leather or velvet upholstery is both luxurious and durable. The range features clean lines, elegant dark wood feet, and beautiful stitching detail and padded arms. Available in a range of colours, the Serento range is sure to be a focal point in any living room. This collection is exclusive in the UK to Furniture Village.
Check Price on Furniture Village
---
Amelie Boutique 2 Seater Fabric Sofa
The Amelie range is inspired by the cool and stylish designs of the 70s. The sumptuous curves and supportive bench seat make it the perfect spot for a relaxing afternoon. The statement legs, available in six stylish shades, add a touch of sophistication to your hallway, and the compact size makes it easy to fit into smaller spaces. Made and hand-upholstered in the UK, the Amelie is available in a wide range of fabrics and colours, so you can create the perfect look for your home.
Check Price on Furniture Village
---
3 Seater Sofa Set Plush Soft Fabric
The luxurious velvet feels fabric of this 3-seater sofa set is soft to the touch and easy to clean. The memory foam cushions provide extra comfort and a firm, supportive seat. This sofa is perfect for your living room.
Check Price on Amazon
---
Honey Pot 3+2 Sofa Set
The Aurora range offers a modern, elegant, and stylish design, as well as high-quality craftsmanship and durability. Available in a variety of sizes and styles, including a corner sofa, two-seater, three-seater, and armchair, the Aurora is a popular choice among Honeypot customers.
Check Price on Amazon
---
Faux Leather Sofa Bed With Recliner
This sofa bed comes in a variety of colours such as black, brown, red and cream faux leather. It would make a stunning addition to your home especially in a bedroom or the living room and will provide an extra bed for visitors.
£188.99 from Amazon
---
Honeypot Harper Sofa
The Harper range is known for its sumptuous fabric upholstery, foam cushions, and deep, relaxed seating. The button-tufted seat cushions add a touch of style, and the bolster cushions provide extra comfort and elegance. Available in blue, teal, beige, or grey, the Harper comes in a variety of sizes and styles, including a 3-seater sofa, a 2-seater sofa, and an armchair.
Check Price on Amazon