In 2020, home improvement in the UK rose by 12%, with maintenance and repairs and painting and decorating being the jobs most homeowners have had to undertake. For first-time buyers, purchasing a home can often come with unexpected costs and therefore, personalising their new home can often end up taking a back seat. Luckily for Peabody buyers, the housing association is offering purchasers at its Valley House, Patchworks, Motion, and The Pomeroy developments a £2,000 David Phillips furniture voucher and interior design consultation with one of Instagram's hottest interior design accounts (Little Big Bell, Design at Nineteen and Around.Robyn) terms and conditions apply.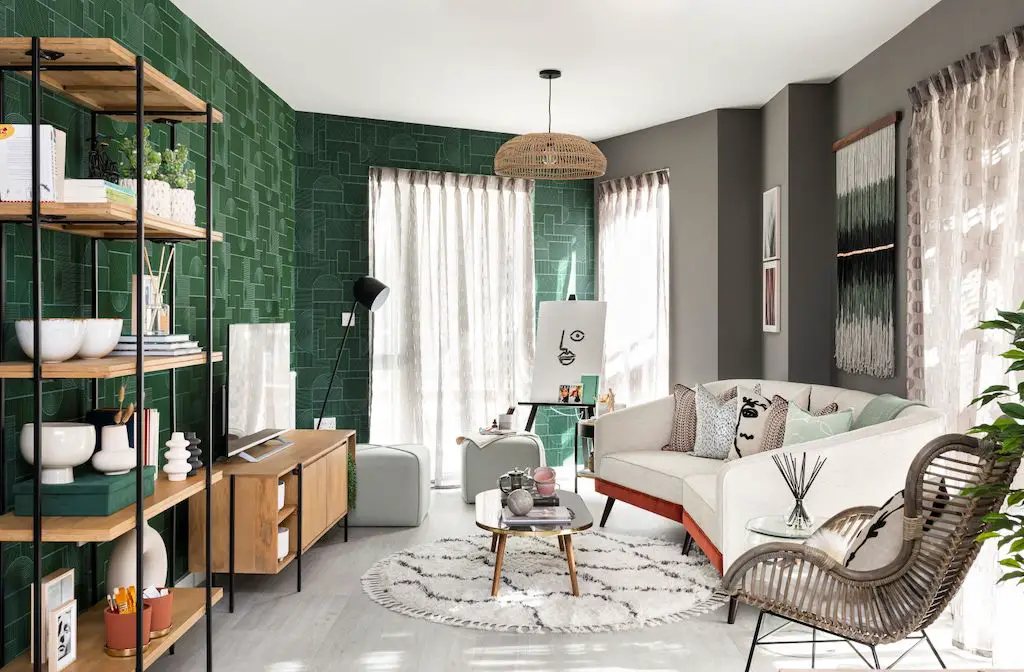 Andrew Peglau, Assistant Director of Marketing at Peabody comments:
"This is a truly fantastic package for our buyers, especially those who are stepping onto the ladder for the first time and are on a budget. Decorating and furnishing your property helps to make a house feel like home, and also benefits mental wellbeing. For many buyers creating a space that is functional yet stylish can prove tricky and expensive, however with the help of David Phillips and some fantastic designers our purchasers need not worry. Combining modern open plan living with fantastic local amenities and vast amounts of green and blue spaces, buyers are sure to find a Peabody home that suits their needs."
Running alongside Peabody's 'Interior Design Challenge' campaign this fantastic incentive aims to enable buyers to create their dream property, and David Phillips is on hand with its top-of-the-range chic furniture to ensure buyers can kit out their new home in style.
Meet the Designers:
An interior design blogger and NHS doctor, Dr. Geraldine Tan is calm, collected and creative. First appearances can be deceiving and Geraldine's approach to interior design may not be what you would expect. Offering a combination of memorable, exciting and clever designs with some ingenious ways to make the most of a space.
Easily one of the most recognisable faces on Instagram when it comes to home design, content creator and interior stylist Justin Coakley is the king of utilising a neutral palette to create a cosy, relaxing and inviting space.
Bright, bubbly and bold – Robyn Donaldson is an award-winning interiors blogger who has a wild personality to match her eye-catching interior designs. With apartments across London, there is sure to be a home that will suit all lifestyles.
Valley House in Charlton is guaranteed to suit city workers who are after a more laidback lifestyle. Benefitting from quick transport links into Central London and close proximity to Canary Wharf buyers here can reap the rewards of inner London whilst also profiting from close proximity to the River Thames and vast open green spaces at nearby Greenwich and Blackheath.
Prices start from £98,625 for a 25% share of the full market value of £394,500 for a one-bedroom apartment. A selection of properties are also available to purchase with Help to Buy, prices start from £532,000 for a two-bedroom apartment. For further information visit peabodysales
Enjoying a prime location within the vibrant North London neighbourhood of Finsbury Park, Patchworks is a five-storey retro-chic building comprising a collection of Shared Ownership apartments. Whilst neatly tucked away from the hustle and bustle, residents here are well-connected to the rest of the capital, with central London only four miles away. Residents benefit from private balconies as well as a communal rooftop garden and secure onsite cycle storage – perfect for those who enjoy exploring on two wheels. Prices for a two bedroom apartment start from £151,250 for a 25% share of the full market value of £605,000 for further information visit peabodysales
Motion is extremely well placed within the vibrant east London district of Waltham Forest. Residents can enjoy a combination of award-winning infrastructure improvements and stunning green spaces as well as a range of cycleways, footpaths and a new Cycle SuperHighway route close to home. Buyers who like to source food locally can easily reach Broadway Market in Hackney stocking a vast variety of fresh fruit and vegetables whilst Lea Valley Regional Park provides a great space to stretch the legs and explore stunning landscapes and waterways. Prices start from £110,000 for a 25% share of the full market value of £440,000 for a two-bedroom apartment. For further information visit peabodysales
A selection of apartments and duplex properties remain at The Pomeroy. Ideal for families or those working from home, all of these home benefit from flexible living accommodation as well as private outside space in the form of a balcony or garden. Located in the urban district of New Cross, purchasers will profit from a range of amenities both locally and in nearby Peckham as well as easy connections into Central London thanks to its Zone 2 position. Prices start from £670,000, for further information visit the-pomeroy