Is Mayfair a good place to live in London? What are the schools like? Is it safe? We take a closer look at why buyers are eager to live here, and what it has to offer.
Located in the West End of London, Mayfair is an affluent and beautiful area in the City of Westminster, lying close to the leafy and coveted Hyde Park. Mayfair includes the areas between Regent Street, Oxford Street, Park Lane, and Piccadilly making it one of the most exclusive and desirable neighbourhoods in London.
The liveability and lifestyle factors offered by Mayfair mean that it is attracting a young and affluent crowd. The area is known for being exclusive and coveted, and it has certainly risen to the challenge of meeting the needs of its dynamic and ambitious residents.
Mayfair Area Guide
Mayfair is full of high-end residential homes, top-quality restaurants, luxury hotels, and shops. The area is renowned for its architecture and properties with period features. Historically, there used to be a good mix of high end commercial and residential properties, but since the 1990s many commercial properties have undergone elegant period conversions reverting them back to residential homes.
Houses For sale in Mayfair
Down Street Mews
Price: £2,950,000
Listing and more information can be found here
Average House Prices
The average house price in Mayfair is £2.4 million, with property prices ranging from £650,000 to £11.9 million. Last year, houses in Mayfair sold at an average price of £7.3 million, and Mayfair flats selling for an average of £4.3 million.
The average rental price is £1,271 per week which is over 100% over the London average rental price.
The Grande House, a new build home in St. James SW1, is the epitome of modern luxury. Each room is filled with extravagant décor, colour and quirky charm. The exterior is also built up of eye-catching black brick and granite facade, and this uncommon feature helps it to stand out from other luxurious homes. As well as a 5-person lift, there is also a beautiful spiral staircase that connects all of the floors. In the middle of this staircase, there is beautiful circular pendant lighting that drops down between the floors– creating a striking focal point.
There are a wide range of properties in Mayfair, from commercial to residential, and they all have spectacular architecture. You will find Georgian houses, mews houses, pied-a-terre apartments and lateral apartments in the area.
Mayfair comprises of nine districts and they each have desirable properties, with sales achieving approximately 32.256 per square foot.
Residential sale values have risen by 199% since 2005 in Mayfair Village, the traditional core of Mayfair.
There is a much younger crowd at The Lanes in North Mayfair which attracts socialites and city workers to the mews houses lining Bourdon Street. Grosvenor Square remains one of the most coveted areas in Mayfair and is one of the most recognisable addresses in the world.
Planning
As the resident profile continues to change with the influx of young professionals into the area, the local authority has worked hard to keep up with the needs and requirements of the neighbourhood.
The Mayfair Neighbourhood Plan was adopted on the 24th of December 2019. The Plan sets out the vision and planning policies relating to Mayfair for the next two decades, with a long-term vision for businesses, residents, and communities.
This plan contains policies relating to community uses, transport, retail, commercial and residential properties, and the environment, and can be found here:
https://www.westminster.gov.uk/planning-building-and-environmental-regulations/city-plan-neighbourhood-planning-and-planning-policy/mayfair-neighbourhood-plan
You can find details of planning applications and decisions at:
https://www.westminster.gov.uk/planning-building-and-environmental-regulations/find-appeal-or-comment-planning-application/search-and-comment-planning-applications/planning-committee-meetings-reports-and-decision-notices
Transport
Mayfair is well served by Underground Transport links including (all within walking distance):
Green Park tube station
Bond Street station
Hyde Park Corner station
Oxford Circus station
Marble Arch station
Charing Cross station
Piccadilly station
These stations cover the Jubilee, Piccadilly, Central and Victoria lines, ensuring that Central London is very easily accessible.
There are also good bus links with bus stops on Oxford Street, Piccadilly, and Park Lane. Mayfair is an easy commute for those working in central London and beyond. Trains from Mayfair to Heathrow typically take about half an hour. Mayfair is within the congestion zone but within walking distance of central London.
Local Amenities
Mayfair is renowned for the quality of its local amenities and is considered one of the safest and most desirable areas to live in. With world-class restaurants, exclusive independent stores, prestigious hotels and beautiful parks, Mayfair stands out as a prime location for those looking for exclusivity and inviting heritage.
Restaurants
Mayfair has the most Michelin star restaurants than other neighbourhood in London, and includes some delectable eateries including:
Le Gavroche
Hakkasan
Benares
Alaine Ducasse at the Dorchester
Sexy Fish – Berkeley Square
Nobu
Roka
Schools and Education
The local primary school is St George's Hanover Square, a Church school located on South Street. To the south of St James's Park, you will find Westminster School, one of the leading co-educational schools in the UK. Mayfair is also home to the private Eaton Square Senior School, and the British School of Etiquette.
There are also independent schools within Mayfair including Queens College London (for girls, aged 11-18), and Connaught House (children aged 4-11).
For those with a flair for the arts, the Sylvia Young Theatre School is located nearby as is the London College of Fashion. Mayfair also has excellent higher education institutions including Westminster University on Regent Street, and London School of Economics which is located just off the Strand.
Parks

Mayfair has beautiful and lush green spaces which make residents forget they are so close to the hustle and bustle of central London. There are three royal parks in Mayfair:
St James's Park
Hyde Park, and
Green Park
For additional green space, there is Grosvenor Square, St James's Square, and Berkeley Square.
Shops
Mayfair is filled with upmarket flagship stores and designer boutiques and has always been considered a shopper's paradise. The high-end range of shops include:
Bond Street
Savile Row
Fortnum and Mason
Selfridges
Liberty London
In addition to some of the most iconic shops, Mayfair boasts some of the best shopping Arcades in the UK, including Burlington Arcade, Royal Arcades, and Piccadilly.
Galleries
Being the epitome of prestige and luxury, it is no surprise that Mayfair is home to captivating museums, galleries, and buildings such as the Royal Academy of Arts, Handel House Museum, St James's Palace, Sotheby's, and the Curzon Street Cinema.
The heady mix of fashion, culture, and heritage mean Mayfair is inviting to people from all over the UK and the world.
The district is also close to London's famous Theatreland which is home to the best West End theatres and iconic British landmarks.
Hospitals
Mayfair has a wide range of NHS and private practices serving the area. The London Wellbeck Hospital, Weymouth Street Hospital and University College Hospital are some of the closest hospitals.
Mayfair Hotels
Mayfair is home to a plethora of high-end, five star hotels including:
The Connaught Hotel
Claridges
The Mayfair
The Dorchester
45 Park Lane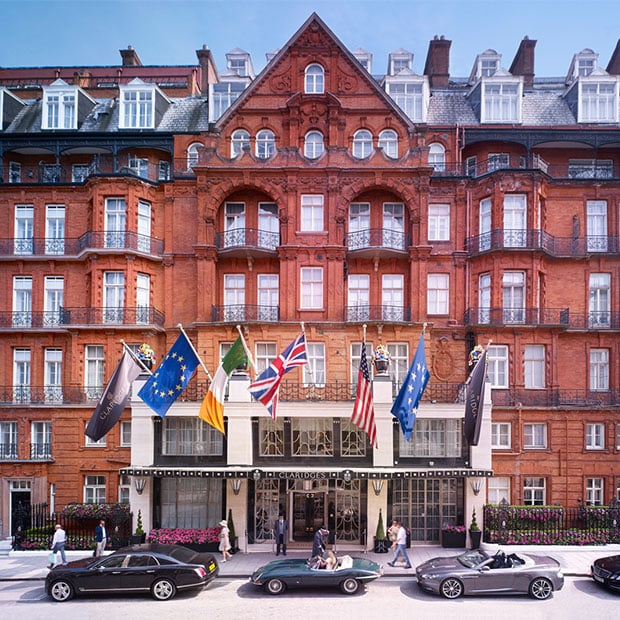 Mayfair is a flourishing and cosmopolitan neighbourhood, attracting people from across the globe. The excellent local amenities, high-end sought after properties, and 5 star hotels mean it is favoured by high-net worth individuals from the UK and overseas. Some of the world's most famous people have lived in Mayfair including the Queen Elizabeth II, Sir Winston Churchill, and Jimi Hendrix. Over the last decade, there has been a transition in Mayfair, with an influx of young and wealthy buyers and investors. Millennials currently make up 35% of Mayfair's population and this is expected to rise over the next few years as