Created to honour its rich history, London Dock is an outstanding East London development in the heart of Wapping. It offers a variety of residential and commercial properties, as well as open public spaces, including retail stores and restaurants.
London Dock was executed by St George, part of the Berkeley Group, and designed by Patel Taylor, an architectural practice. Since launching in 2016, the 15-acre mixed-use development has continued to flourish with each phase, and many Londoners are now calling this part of Wapping home.
The development is situated near some of London's most famous landmarks, including St Katharine Docks, the Tower of London, Tower Bridge, and the City of London, and has seen former working docks transform into an exciting residential neighbourhood. The docks, which were first open in 1805, previously accommodated up to 500 ships and over 200,000 tones of goods and were Britain's gateway to the New and Old Worlds.
Comprising 1, 2, and 3 bedroom Manhattan-style apartments, Saffron Wharf will be the next phase of this vibrant neighbourhood seeping in history. The 18-storey building, which takes its name from one of the most opulent products traded at the docks, is surrounded by broad boulevards and lush courtyard gardens inspired by its past.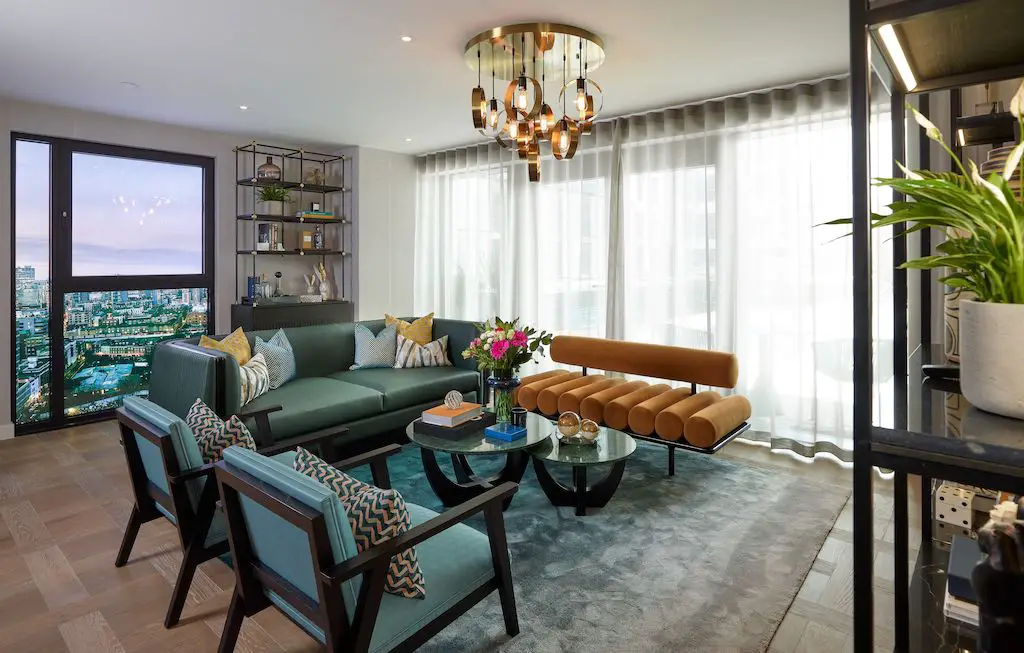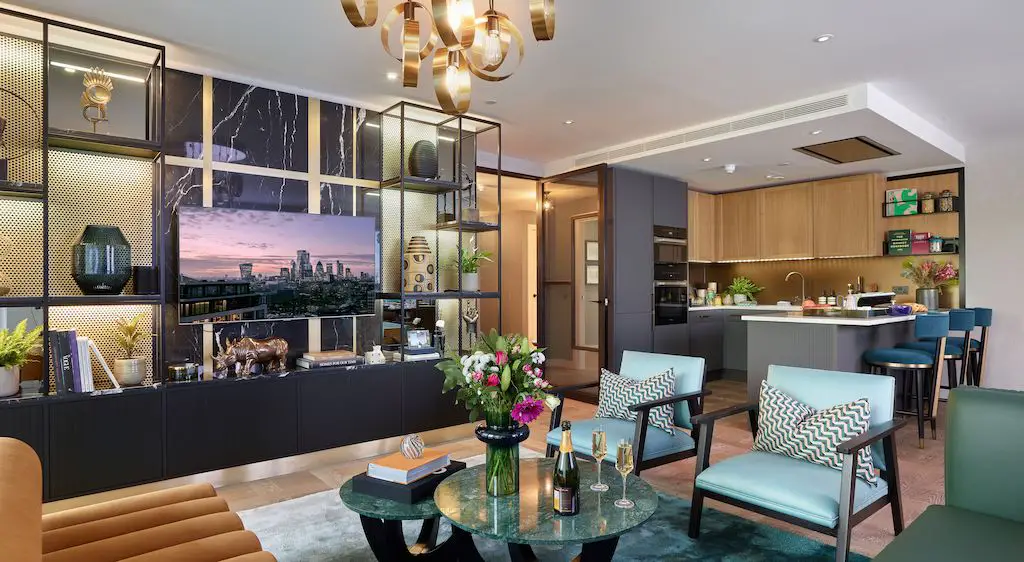 Each apartment features a private balcony or terrace, and from here you can enjoy panoramic views of the City of London or Canary Wharf. The interior of each home has been intricately designed and features basket-weave patterned timber flooring, floor-to-ceiling windows, fluted kitchen cabinets, bronze splashbacks, stone worktops, Miele integrated kitchen appliances and brushed black metalware.
In the onsite marketing suite, there are three brand new luxury show apartments, which have individual and unique designs which maintain a sense of the history associated with the local area. The Fenchurch, a stunning three-bedroom show apartment, was created by interior designer Atellior and is a masterpiece worthy of the place it represents.
Una Barac, Executive Director at Atellior, describes the inspiration:
"We wanted to pay homage to London Dock's authentic and colourful character within The Fenchurch. Through a bold yet sophisticated interior design, we've explored statement colours that reference the art, culture and places around us. We've also used geometric lines and bespoke joinery that softly evoke the shapes and architecture of the East Banks along the River Thames.

"But most of all, we wanted the design to be a real showcase of everything saffron stands for: luxury, history, richness. To do this, we've used ochre and rich amber tones throughout the home, as well as carrying the soft scent of saffron through the rooms. The effect is a truly harmonious experience."
This careful approach to design was also adopted with the outside of the homes, and retaining the historic liveliness of this trading place was central to the London Dock vision.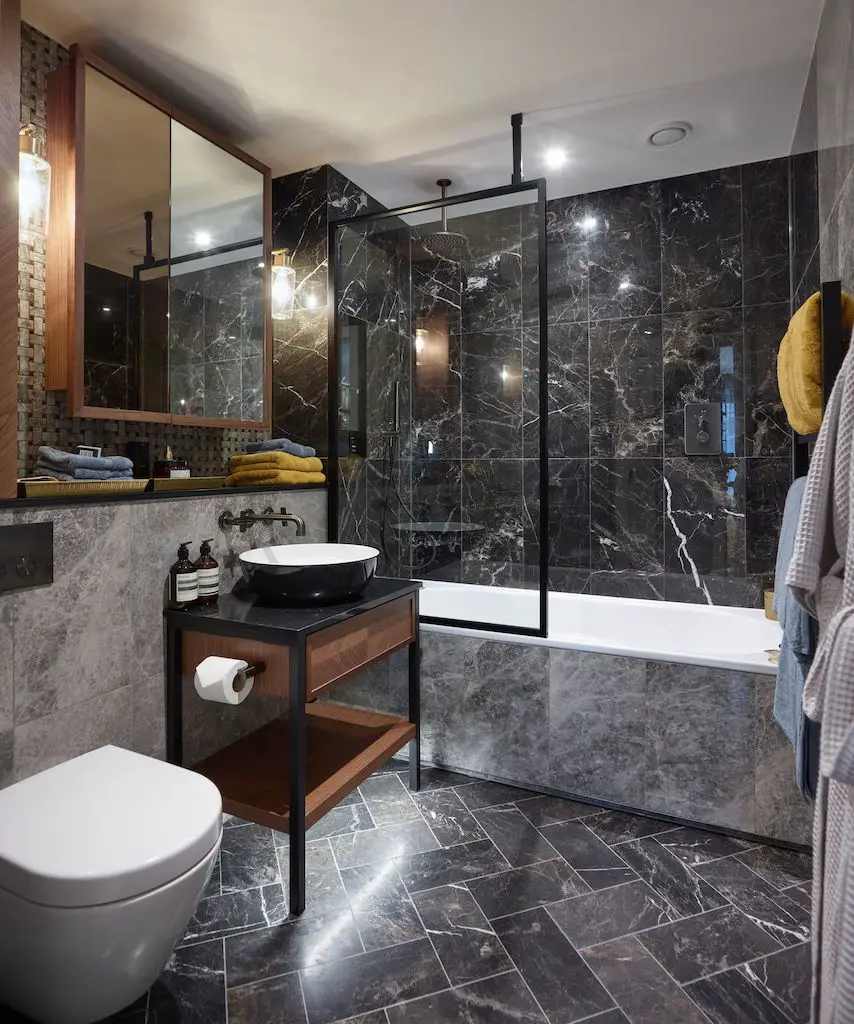 Marcus Blake, Managing Director at St George City, comments:
"We wanted to create an opportunity to become part of an evolving and thriving neighbourhood that still retains much of its rich maritime and trading heritage.
"London Dock provides an impressive variety of amenities, from independent brands, striking listed workspaces within the Pennington Street Warehouse, state-of-the-art fitness facilities and beautifully designed public areas, all within walking distance of both The Thames, Tower of London and the buzz of the City."
Residents of Saffron Wharf have access to a range of private facilities, including a state-of-the-art gym, a heated pool, a sauna, steam room, jacuzzi, squash court, cinema room, virtual golf suite, and a 24-hour concierge. Nearby Pennington Quay Walk and central piazza, Gauging Square, are also home to many local amenities, including a champagne bar, boutique boxing gym, and a water feature inspired by the Miroir d'eau.
London Docks is only a short stroll from Tower Hill and Aldgate and will soon be connected to the Elizabeth Line via Whitechapel. St. Katharine's Pier is also an 11-minute walk from the development, and from here you can get river bus services to locations across the Thames.
Prices at Saffron Wharf start from £727,000 for the Manhattan apartments.
For more information, please contact St George on 020 3504 4695, email [email protected] or visit www.londondock.co.uk