The new East London community will feature more than 1,800 homes and these will be placed alongside: offices, flexible workspaces, schools and new community spaces. East Wick and Sweetwater is also set to play a key role linking the adjacent communities of Hackney Wick, Fish Island and Stratford. This will consequently help it to become a new independent area in its own right.
Moreover, the neighbourhoods were designed by six architects, and the first phase has been consciously built for local people and those who intend to settle in the area. This in turn will attract people from different age groups and all walks of life, as many are expected to want to live in one of the capital's most buzzing locations.
New homes to rent or buy and for all stages of life
East Wick and Sweetwater is set up to be more than 'just' a development. From the start of planning, it has been carefully decided that homes will be provided to suit all residents, whatever their background. Additionally, the homes will also be economically priced through the use of social rent, affordable rent and Shared Ownership. Alongside quality privately rented apartments, market sale apartments and larger townhouse-style homes will also be made available, which will be perfect for those wishing to settle down and grow in the area.
When a customer goes to view a home at the development, they will be welcomed by one single team from East Wick and Sweetwater and this tenure blind approach will be adopted with every customer no matter their budget or house preference. This approach is also used with the ongoing estate management team and there is no differentiation for those who choose to buy or rent a home (affordable or market sale), or for those who are commercial or retail tenants.
The designs also consider people's need for private outside space and every home includes individual balconies or terraces, and there will also be communal spaces for residents which will include: courtyards and play spaces. Additionally, there will be general areas of greenspace open to the public, and residents will be able to easily access the sweeping expanses of Queen Elizabeth Olympic Park, Hackney Marshes and Victoria Park.
A buzzing business community next to Hackney Wick, Fish Island
East Wick and Sweetwater sits next to one of London's most creative artistic communities – recently selected as one of London's six Creative Enterprise Zones – where local independent makers and businesses have flourished for many years. A key part of the new neighbourhood is focused on maintaining and supporting this community. Because of this, East Wick and Sweetwater has partnered with Make Shift, the makers of Pop Brixton and Peckham Levels, to create Hackney Bridge – a new canalside destination featuring: workspaces, public facilities, events, markets, restaurants and bars.
Hackney Bridge has been built on land earmarked for future development in the coming years and instead of seeing this land stand vacant until then, it's now been given a new and exciting use for the next decade. It also aims to provide the space, network and access local people need to create thriving businesses, that benefit their neighbourhood and encourage footfall to the area. Moreover, it has now opened its doors to its founding members, which are an exciting array of local independent enterprises.
Acting as a hub for small businesses, Hackney Bridge is the ideal space for entrepreneurs to kick start their ideas, and there is also the opportunity for business owners to eventually scale up to one of the larger commercial spaces available at East Wick and Sweetwater and neighbouring Here East.
Further community space is being provided at Clarnico Club – a multi-purpose social hub that serves as the beating heart of East Wick and Sweetwater. A range of independent events are planned to be hosted at the venue (subject to Covid-19 restrictions), and here visitors can also learn more about the neighbourhood, what's taking place in the local area, which businesses are around, or simply have a coffee in the café and work flexibly.
Park Life
There are very few locations in London that can rival East Wick and Sweetwater's access to green space. Bordered by the river Lee Navigation canal and river Lea, the neighbourhood is ideally located in the iconic Queen Elizabeth Olympic Park, right next-door to Hackney Wick, Fish Island and a stone's throw from Stratford. For a change of scenery, Victoria Park and Hackney Marshes are also nearby.
Living on the park grants residents easy access to iconic Olympic venues, including the Copper Box Arena, London Stadium and London Aquatics Centre.
This part of London is also home to some of the best transport links and facilities in the city and this is why many creators, entrepreneurs and innovators are based here. The nearest stations are Hackney Wick, Stratford and Stratford International and they all have fast connections to most of London. Stratford international station is less than 10 minutes from St Pancras and less than an hour from London airports. Moreover, the park also has walking and cycling trails, bus routes, and is 20 minutes from the M25.
A new cultural quarter
East Wick and Sweetwater is perfectly placed to support and benefit from the arrival of East Bank, a new powerhouse of culture, education, innovation and growth, and this will bring world-renowned venues, including the V&A, Sadler's Wells, BBC and University College London, to the Olympic Park.
Spread across three sites, East Bank will bring over 10,000 students to the site and attract thousands of visitors from London and beyond, creating more than 2,500 jobs and £1.5 billion of economic benefits.
Importantly, East Bank will build on the area's existing creative credentials, and East Bank partners have been building relationships and delivering projects with the thriving arts, fashion and community organisations already based in the area.
Furthermore, East Wick and Sweetwater will rub shoulders with the new V&A collection and research centre at Here East, which is home to over 250,000 objects and 917 archives displayed in an immersive cabinet of curiosities.
What's in a name?
East Wick was originally picked through a competition where people were asked to suggest names for new areas of the park. A local resident suggested 'East Wick' to reference the eastern extension of Hackney Wick into the park and the name 'Sweetwater' was suggested in reference to the area's former Clarnico sweets factory, along with the area's meandering waterways and canals.
Comments from James Zamchick, Director, at East Wick and Sweetwater
East Wick and Sweetwater is built to be different. Our homes have been built to be lived in and we want to create a place that adds to the area's already flourishing community. Our tenure blind approach means visitors receive exactly the same service, whatever their circumstance. We don't want a community of the same type of people living here – we know that is not sustainable in the long term – we want to see all ages and backgrounds taking advantage of different tenures and enjoying living and working in the area.
"Working with partners like Make Shift means we can offer a range of business spaces, giving local entrepreneurs a genuine opportunity to work and collaborate with others from the area, helping to exchange ideas and to see businesses grow.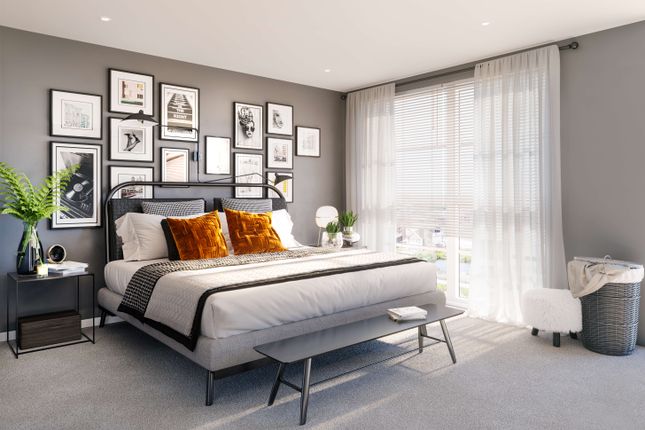 "Hackney Wick and Fish Island are some of London's most innovative, energetic communities, whilst Stratford has more recently forged itself a reputation as a major business and transport hub serving the City and Canary Wharf. East Wick and Sweetwater is a new piece in this east London jigsaw –bridging these communities and forming a new neighbourhood in its own right."
For more information visit eastwickandsweetwater.co.uk or call 020 3369 0573