Rightmove can be a great place to find houses of your dreams and create aspirations, and with many houses available it can be hard to know what to work towards. So to give both those who like to browse and dream and those looking for a new house a helping hand, I have compiled a list of the top 5 luxurious homes in London on Rightmove:
Upper Grosvenor Street – £54,500,000
This stunning 12-bedroom house is what dreams are made of. It is one of Mayfair's original Mansions and it is a Grade II listed townhouse which was constructed in 1732. However, it was extensively refurbished in 1908 by Ralph Knott, who particularly liked to adopt an Edwardian baroque style in his work. The house has since been restored to its original appearance but has incorporated many modern features. There is an abundance of space throughout and you will find an 'L-shaped' drawing room on the first floor and this also leads onto a large terrace and a dining room on the ground floor. The dining room can seat 20 guests and many parts of the house accommodate a large family or visitors, so if you like to entertain you will be able to do that comfortably in this house. Additionally, the master bedroom occupies the entire second floor and includes a private and secluded roof terrace. There are also 4 other principle bedroom suites in the main house. Further bedrooms are found in 'Mews House' which can be found at the rear in Culross Street and it has its own drawing room/kitchen, gym and garaged parking with spaces for 2 cars. Moreover, the house has one of Mayfair's largest private swimming pools and also features a gym/fitness studio, separate spa pool, sauna, and a private screening room. Upper Grosvenor Street sits between Grosvenor Square and Park Lane and is an exclusive part of central London. This fantastic location offers residents a close proximity to Hyde Park, world class shopping malls and 5* restaurants. For more information click here.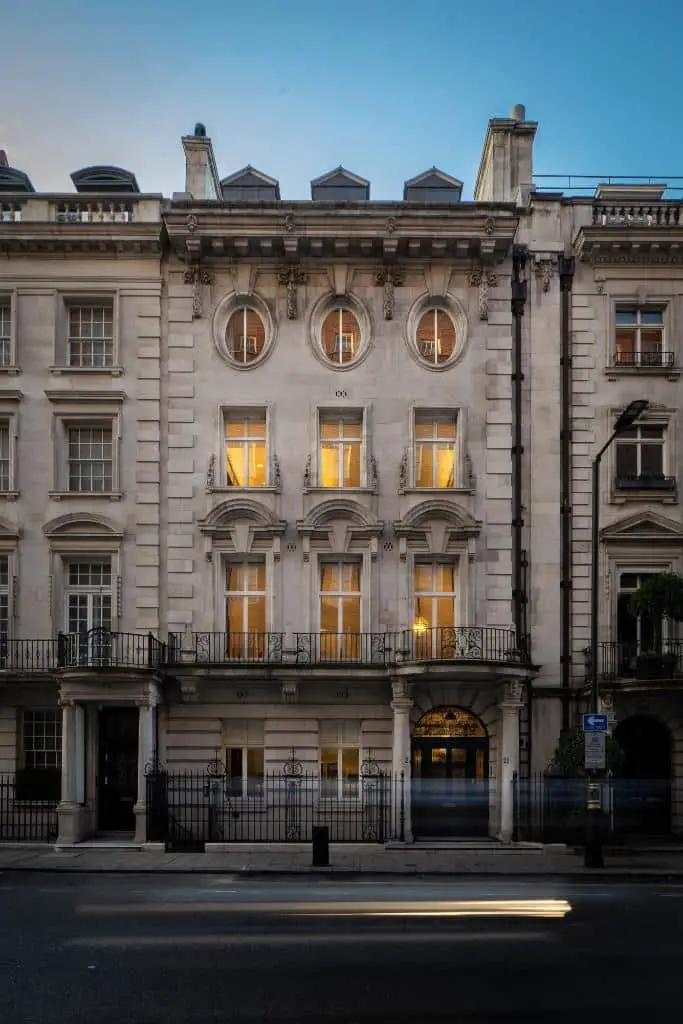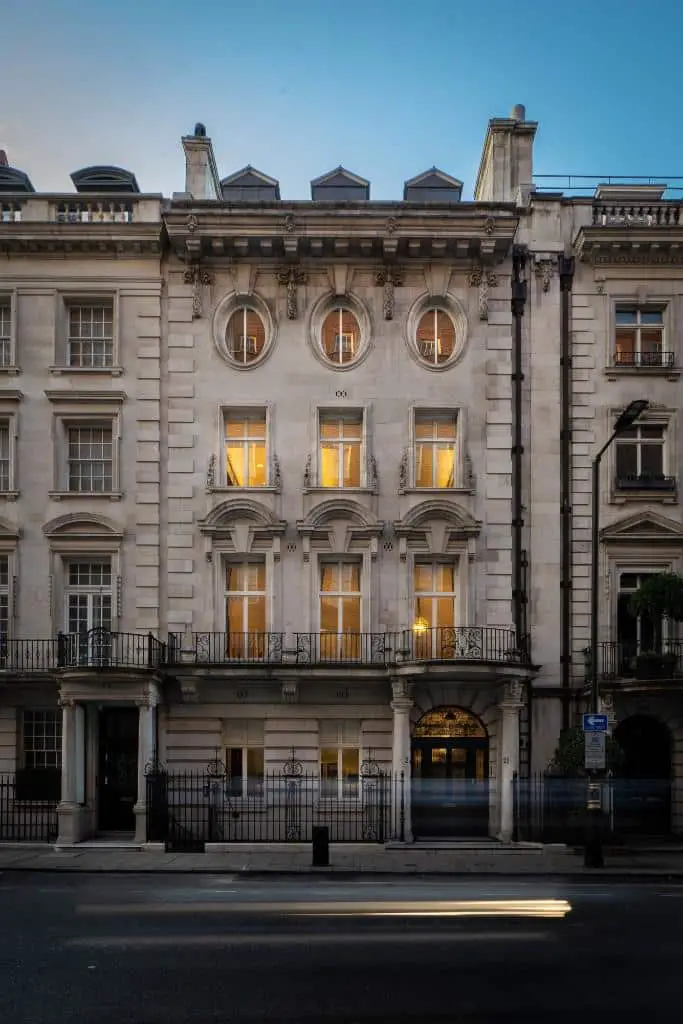 Cannon Lane – £19,500,000
This spectacular and award-winning home was designed by world renowned architect Claudio Silvestrin and is situated in one of Hampstead's most desired locations. The site the property sits on is elevated, which allows for stunning views of London's skyline from the upper windows. Additionally, the position of the property also allows for unbeatable amounts of privacy from the street and an abundance of natural daylight. The house has many rooms and includes: 2 reception rooms, dining area, kitchen/breakfast room, cinema room, master bedroom, 4 additional bedrooms, staff bedroom suite, passenger list, swimming pool, sauna, steam room and gymnasium, and a 2-car garage. Moreover, there is a unique combination of outside spaces connected to the property and in addition to a beautiful lawned garden there are also four balconies and extensive terracing throughout. For more information click here.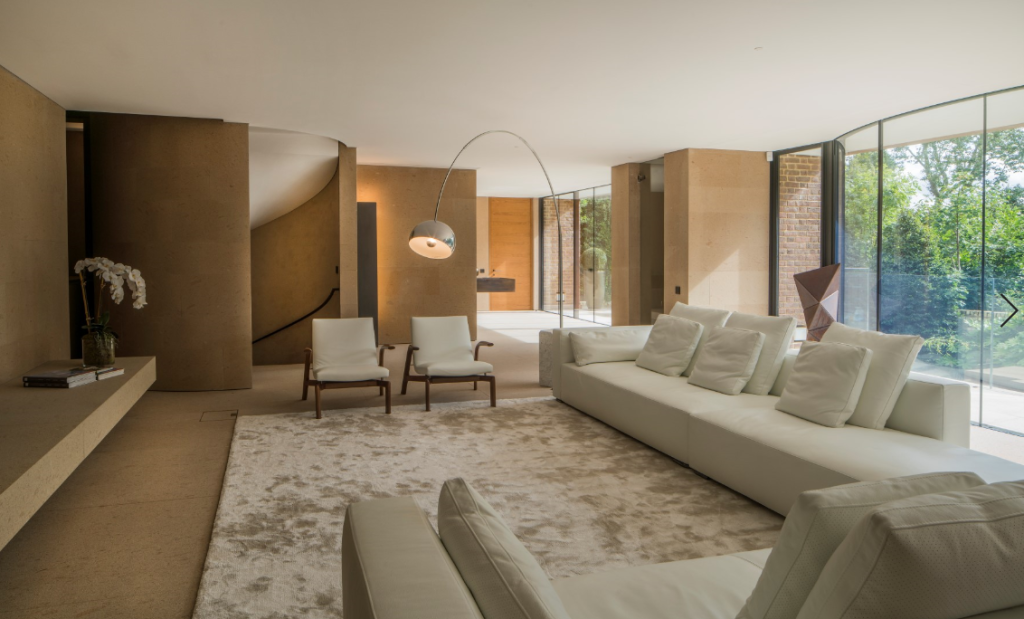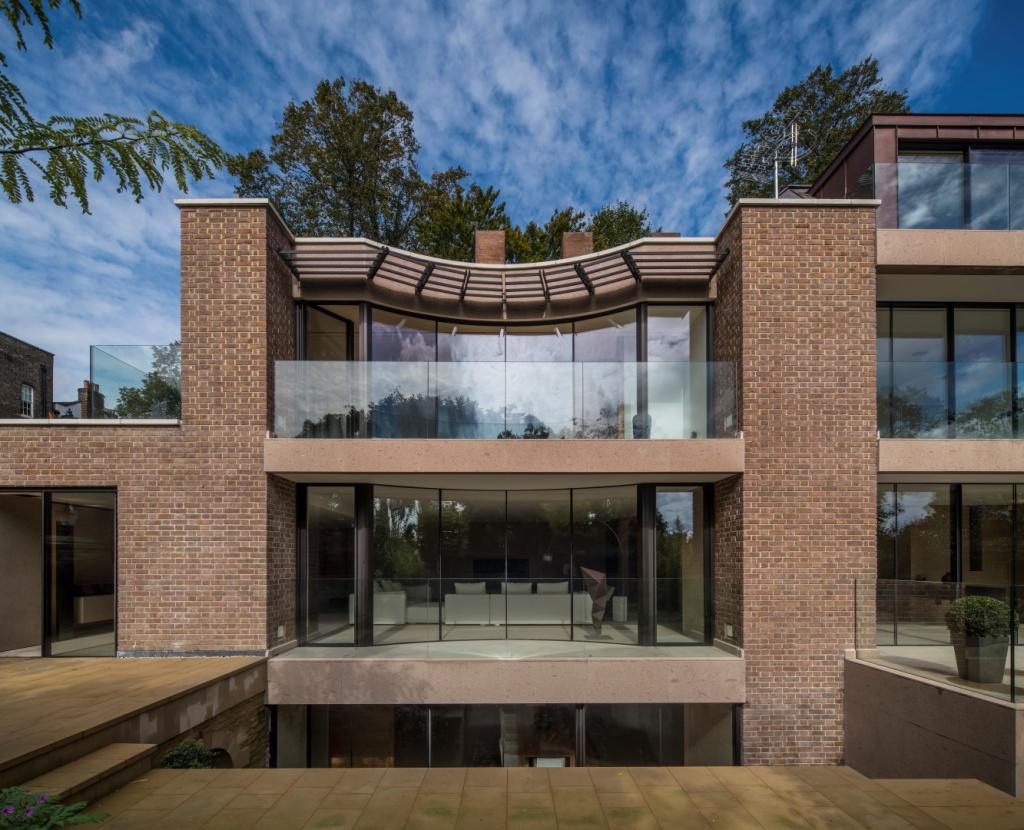 Lygon Place – £20,000,000
Comprising four floors, Lygon Place is a beautifully refurbished 8-bedroom house which has been designed with opulence and charm. Contemporary technology can also be found throughout the property, but this does not overshadow the original period features, such as the: timber flooring, cornicing and fireplaces. Additionally, there is an abundance of space and this family home benefits from a reception hall, three principle reception rooms, private cinema room, master bedroom suite with two dressing rooms and ensuite bathroom, second master bedroom, three further bedroom suites, staff accommodation, guest cloakroom, cinema room and underground parking. Situated in a sought-after area of London, the property is close to many famous green spaces such as Buckingham Palace Garden. For more information click here.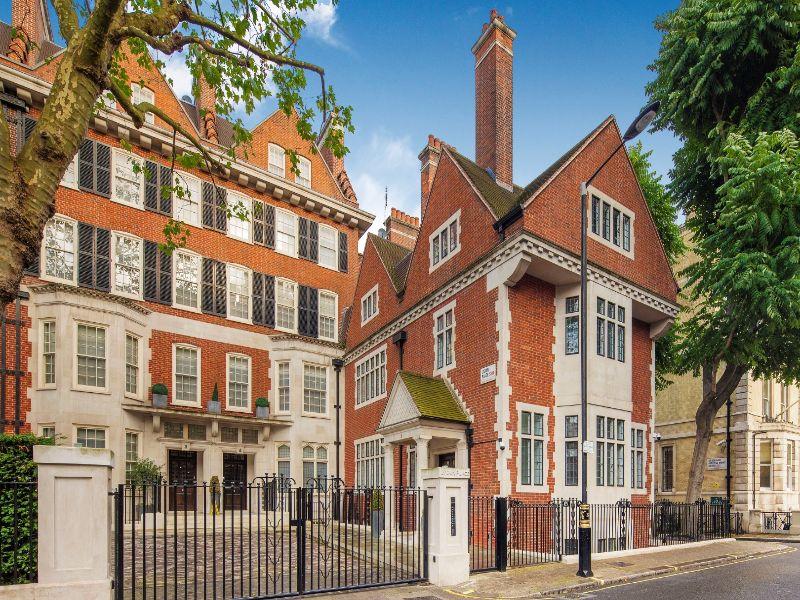 Pembridge Villas – £15,000,000
Encompassing 8,000 sqft, this property is detached, beautifully presented, and newly built. Havona House is also freehold and is built to grand proportions with secure underground parking for up to three cars. The double fronted property was built on the Hall Estate which was originally developed between 1849 – 1864 by Francis and William Radford which, at the time, was seen as 'one of the largest and most successful developments in Victorian Notting Hill'. Moreover, the house is extremely spacious and there is an entrance hall, sitting room, kitchen, 7 bedrooms, dressing room, drawing room, dining area, study, six bathrooms, and a swimming pool. The kitchen also features a uniquely shaped island which is curved and has beautiful light fixtures directly above it. This focal point in this part of the house makes it a great place to entertain guests and enjoy dinner parties. Additionally, making it a great place for families to live, the immediate area is home to a selection of outstanding prep schools including: Pembridge Hall, Chepstow House, Wetherby, Notting Hill Prep and Southbank International. For more information click here.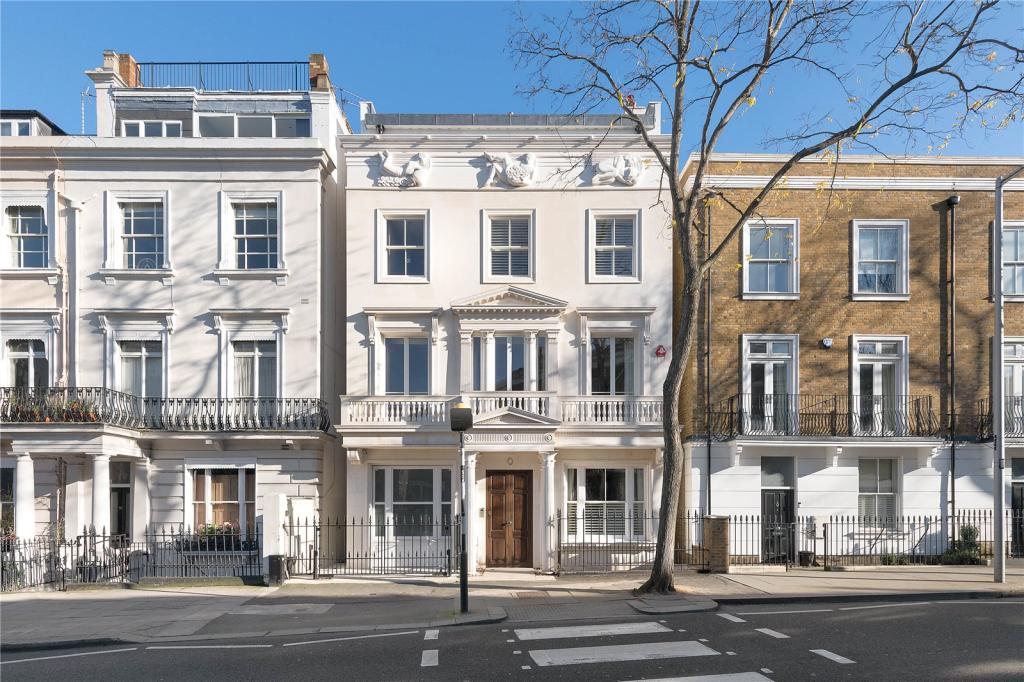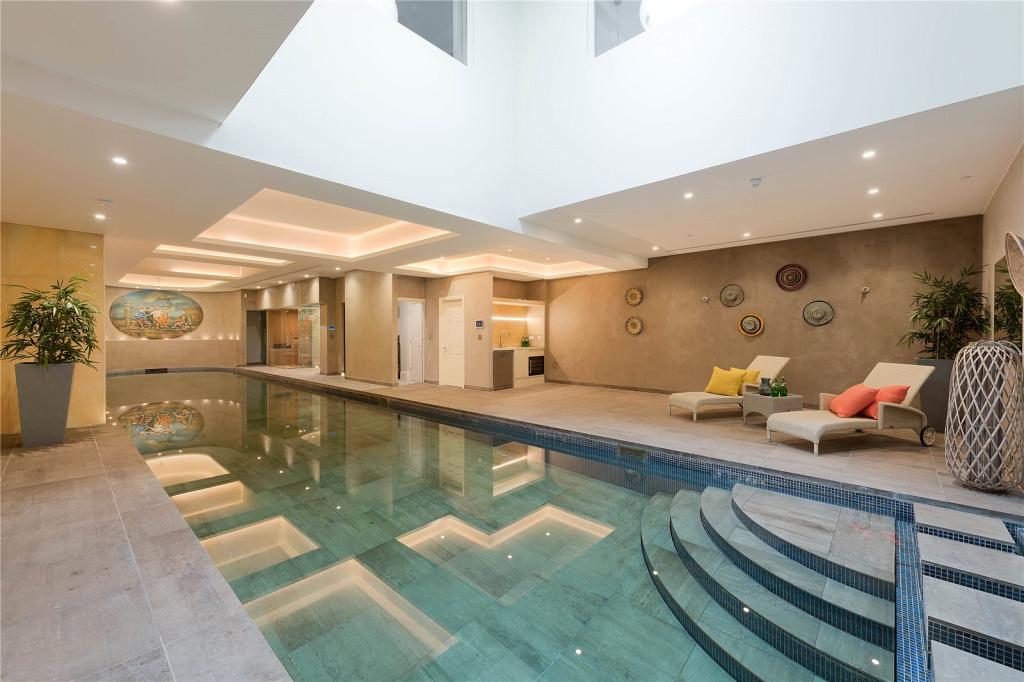 Hamilton Terrace – £19,250,000
This contemporary 7-bedroom detached house was designed by both award-winning architect KSR and Susan White of Iggi Interior Design & Architecture. Situated in one of St John's Wood's most desirable locations, Hamilton Terrace has a raised ground floor which consists of a study, open plan kitchen breakfast room, sitting room and dining room. When you make your way to the back of the property you will also find floor to ceiling glass doors which direct you to a beautifully landscaped garden and football pitch/basketball court – which can be great for the whole family to enjoy! The first floor is exclusively for the principal bedroom suite and this area of the home also includes two dressing areas and two bathrooms. On the upper floors you will find five further generously sized bedrooms and three bathrooms. There is also staff accommodation included with the property and this has its own separate entrance. Other amenities include a swimming pool, spa, gym, games room, media room, utility room and a garage. Hamilton house also benefits from a driveway and additional on street parking, making it perfect for those who own a lot of cars and vehicles. For more information click here.