When it comes to picking a sofa, it is important that you find one which is practical and does not take up too much space. Instead of an l-shaped corner sofa, find a stylish and colourful 2 – 3 seater sofa and match the colour of it to your dining table chairs. 
Some sofas have the versatility of being able to be used as a bed, so if you plan on having guests and do not want the trouble of making space in your home for a guest bedroom, this can be a great alternative. However, aside from this, the colour, texture and style of the sofa are also extremely important, as it has to aesthetically fit into your home and be suitable for your needs. Because all of these factors can make deciding on a sofa a hard task, we have compiled a list of the top 10 best sofas to buy in 2021:
Scott 4-Seater Right Hand Facing Chaise End Corner Sofa
If you are looking for a luxurious sofa, then this is the one for you! The Scott end corner sofa is made from soft touch cotton velvet and because the fabric composition is 85% cotton, you can be assured that air will flow through this breathable fabric easily and this helps to speed up sweat evaporation and keep you feeling cool when lounging on this sofa for long periods of time. The style of the sofa is also extremely sophisticated and features pulled detail cushions. The clean lines also reflect a typical mid-century design.
£1,799 From Made.com
---
Kooper 2 Seater Sofa
The kooper 2 seater sofa has been designed with smooth curves in mind. The dramatically shaped backrest is piped and padded and will add a sense of quirkiness to your home. The velvet sofa is incredibly comfy and is held up by beautifully shiny, gold brass legs. Because of its design, the sofa is a great statement piece and as it is also quite small in size, it can not only be used in a living room, but also in a: home office or second living room.
£499 From Made.com
---
Honeypot – Sofa – Verona – Fabric – Corner Sofa – 3 Seater – 2 Seater – Footstool
The Honeypot 2 seater sofa combines the classic sofa style with a modern twist. It features plump scatter cushions, chrome feet and button-tufted scroll arms, making it a very elegant choice! Additionally, the sofa has a solid wood frame and is upholstered in soft polyester. The comfort, style and quality have all been considered in the design of the sofa and all purchases come with a 12 month guarantee.
£365 from Amazon
---
Large Corner Sofa | Faux Leather & Chenille Fabric
If you need a large sofa that incorporates a modern classic look with high quality materials, then look no further! This grey and black 5 seater corner sofa is upholstered in faux leather and chenille fabric and has comfortable foam filled seats. Moreover, the sofa has distinctive features, such as beautifully designed scatter cushions and striking curved arms. The sofa is also built to last and features strong wooden frames and solid chrome legs. 
£605 From Amazon
---
Visco Therapy Zinc PU Leather 3STR Sofa Bed
This stylish and comfortable 3 seater sofa bed also comes with built in storage. It is perfect for those that need to utilise a small space effectively or for homes that do not feature a guest room. It is really easy to switch between the two positions, and to convert it to a sofa bed you just need to push the rest down and utilise the clic-clac mechanism. The sofa is available in two colours, grey or black, and is upholstered in PU leather fabric.
£325 from Amazon
---
Moreno SD Ultra Soft Fabric Power Recliner Sofa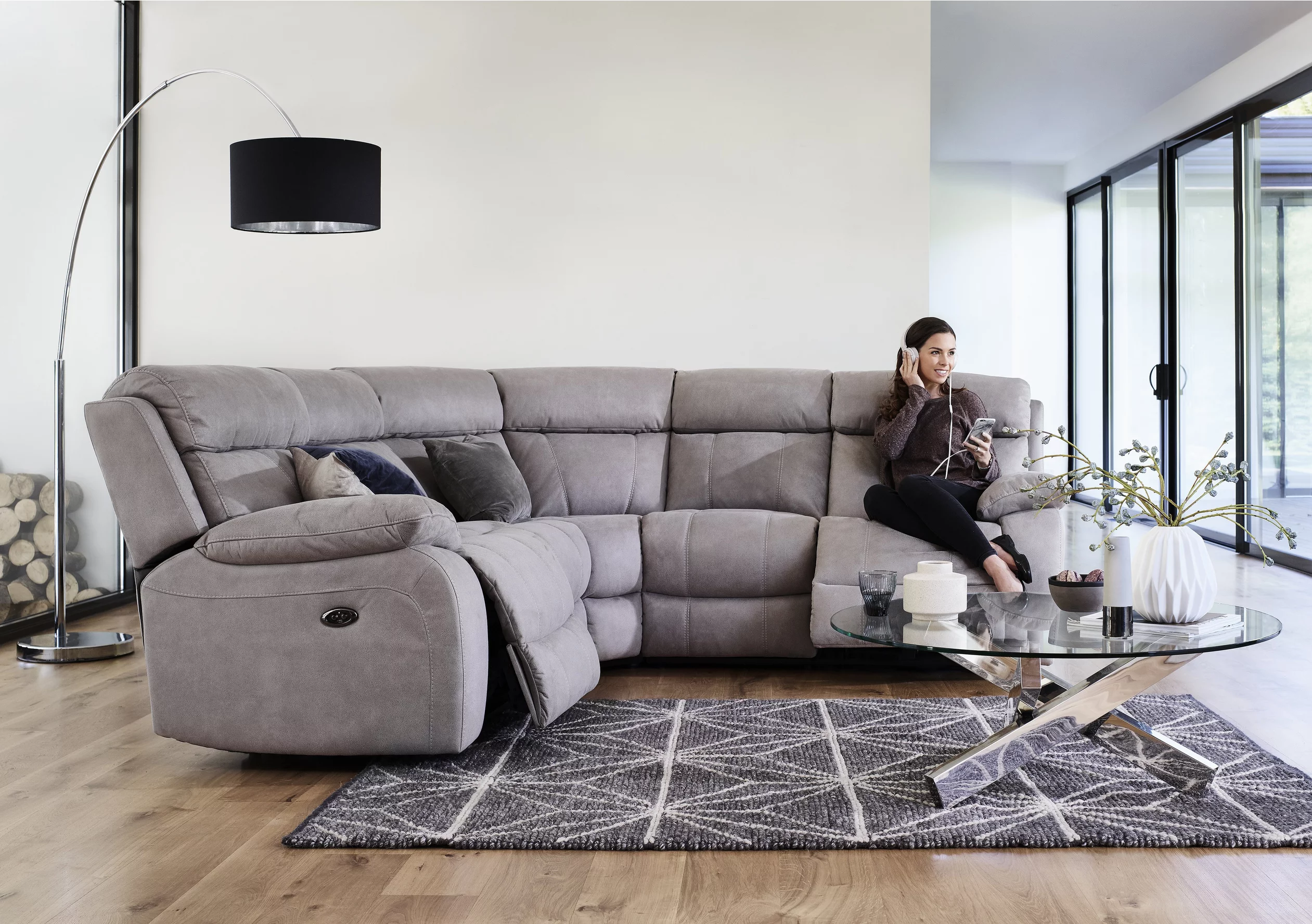 The Moreno SD ultra soft power recliner sofa is extremely comfortable and made for relaxation. The sofa is currently available at a fantastic sale price and will effectively fill a large living room. Additionally, it has a strong frame, soft to the touch woven fabric, high sprung backs with fibre-filled back cushions, premium lumbar support, padded headrests, and luxury fibre-filled arm cushions. The Moreno also features two power recliners with built in USB ports, so you can put your feet up and re-charge with ease. It is also really easy to maintain the look of your sofa and it only requires you to plump and rotate the scatter cushions and lightly vacuum with a curtain attachment.
£1295 from Furniture Village
---
Versano Fabric Corner Sofa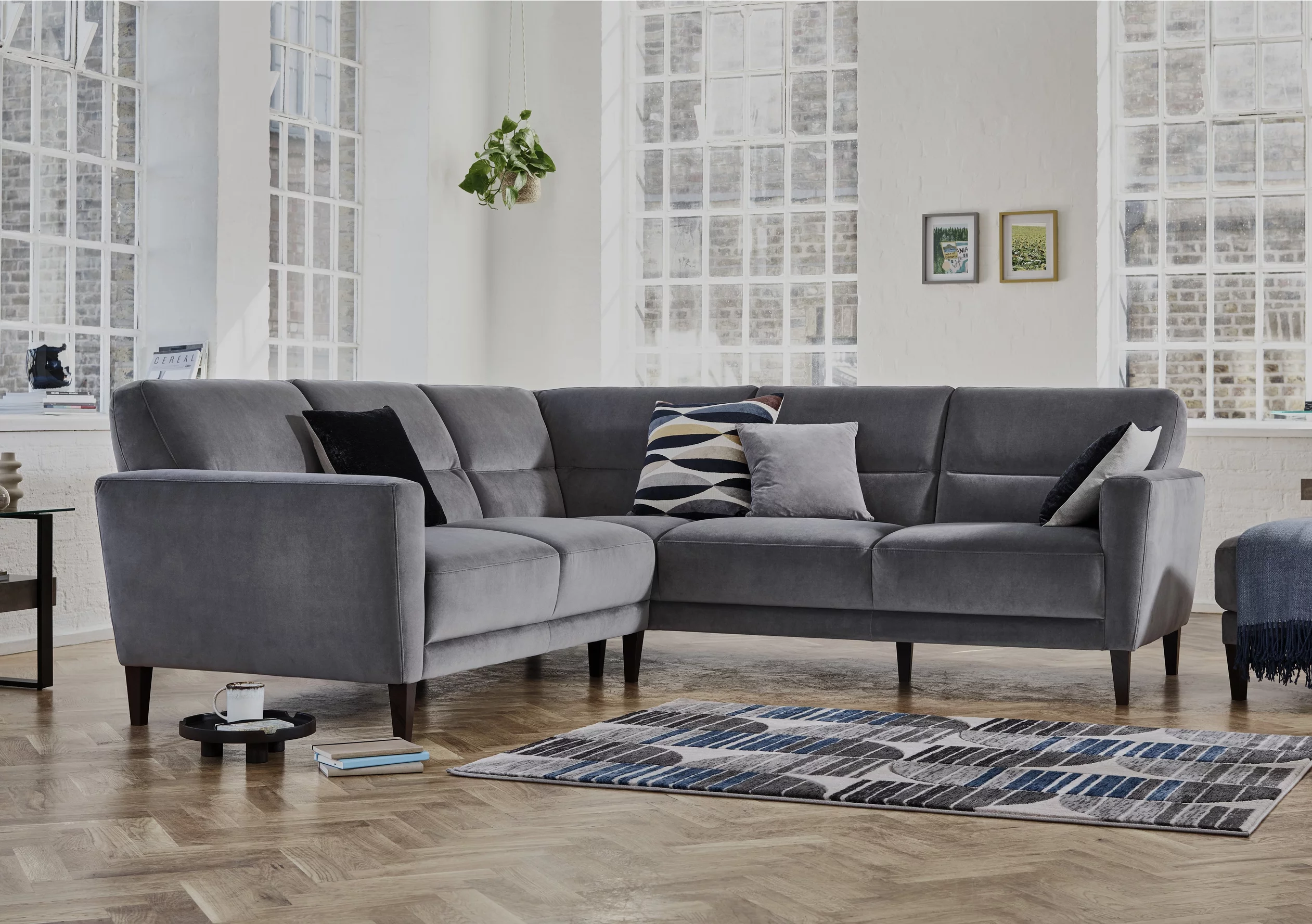 The minimalistic design of the Versano fabric corner sofa makes it perfect for those wanting to achieve an understated look. It is not only sleek and sophisticated, but it also features soft yet supportive foam interiors. The sofa is also upholstered in soft, tactive and durable velvet and is beautifully accented by clean lines and dark wood feet. Additionally, the compact corner design is great for maximising floor space and utilising two sides of your living room.
£1399 from Furniture Village
---
Faux Leather Sofa Bed With Recliner
This sofa bed comes in a variety of colours such as black, brown, red and cream faux leather. It would make a stunning addition to your home especially in a bedroom or the living room and will provide an extra bed for visitors.
£188.99 from Amazon
---
Dallas Right Hand Facing Chaise End Corner Sofa
The Dallas sofa is tan in colour and made from 100% semi-aniline leather. The Italian leather used also has a matt and vintage-style finish and this is perfect for homes trying to achieve an old-fashioned interior design. It has also been distressed to add a bit of texture and help bring out the natural characteristics of the leather. The silhouette is clean and modern and the armrests are slender. The sofa is also very comfortable and is built up of foam and feather filled seat cushions.
£2,099 from made.com
---
Samona Left Hand Facing Chaise End Sofa
The Samona sofa is made from natural fibres and has a fabric composition of 49% linen and 51% cotton. The sofa is extremely comfortable and the generous proportions mean that you can lounge on it without any restrictions. This also makes it great for guests, as they have plenty of space to relax on it alongside you. So if you are looking for style and comfort, look no further as this neutral coloured sofa is definitely the one for you!
£1,499 from made.com