Situated on the uppermost floor of a Victorian apartment in the heart of London's Maida Vale, a two-bedroom pied-à-terre has been thoughtfully reimagined by emerging French designers Églantine Sicat and Pauline Dellemotte. The duo, who helm design studios Maison August and Atelier Ochre, respectively, have collaborated to create a tranquil retreat for a well-travelled collector of African art.
The 98-square-metre apartment has been artfully transformed, with a harmonious blend of personal treasures gathered during the owner's travels, modern accents, and meticulously preserved period features. The result is a serene and inviting living space that showcases the designer's talent for seamlessly integrating disparate elements.
As a frequent traveller, the owner wanted a calm, restorative space where they could unwind and regenerate, while celebrating their passion for African art, reading and collection of global curiosities. To reflect the client's free spirited nature, we sought to use organic lines, natural fabrics and handcrafted touches, which also enhance the building's Victorian heritage.' explains Églantine Sicat, Creative Director of Maison August.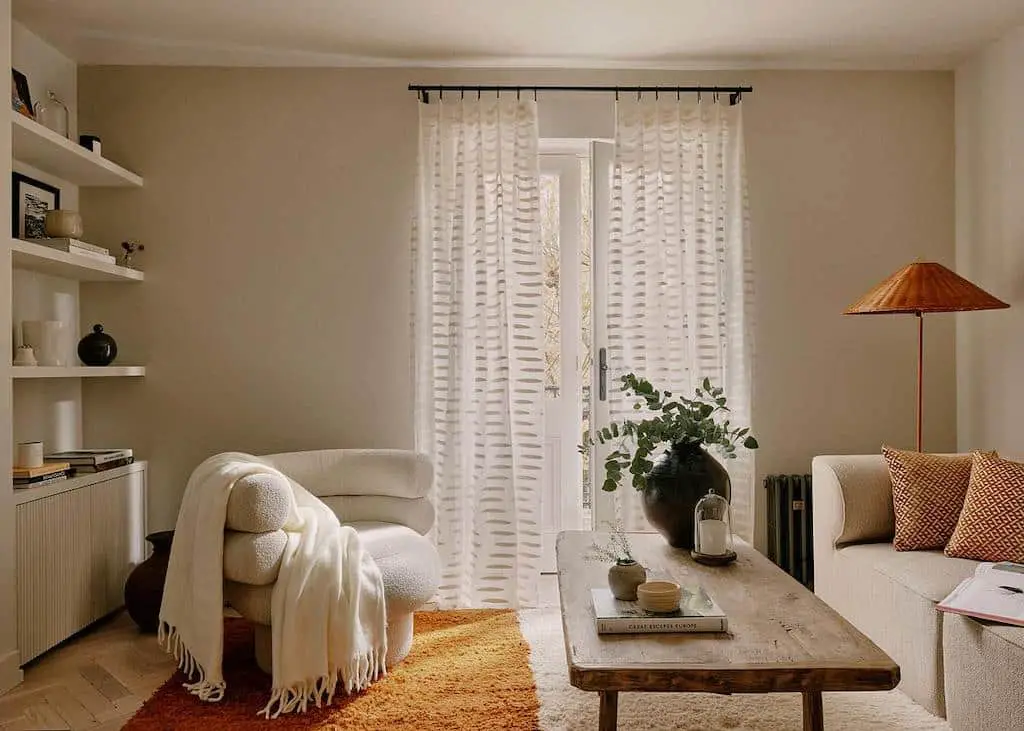 Bathed in natural light, the west-facing apartment boasts scenic views of a nearby park and its verdant foliage. The interplay of sunlight throughout the day imbues the space with soft tints of yellow and pink, creating a series of captivating tableaux. Sicat and Dellemotte's artful deployment of a natural palette allows the owner's impressive collection of African art to command attention. The collection features original pieces by rising artists such as Lakin Ogunbanwo, Gbolahan Ayoola, and Dagmar Van Weeghel.
We wanted the space to seamlessly combine the practical elements of daily life with aesthetic enjoyment–and feel intuitive as you navigate through it. As such, we decided early on that we would design each room in dialogue with the artworks, and create bespoke functional features such as bookshelves, cabinets and seating areas out of natural materials including wood and marble so as not to detract from the personal touches." added Pauline Dellemotte, Creative Director of Atelier Ochre.
The apartment's intuitive layout is guided by natural oak herringbone flooring, which creates a seamless flow throughout the home. The living room leads effortlessly into the dining area, library, and kitchen, while the two bedrooms are situated in a more secluded section of the apartment. A small bathroom, featuring terracotta floor tiles and a custom Carrara marble cabinet, completes this inviting living space.
Bespoke joinery throughout the apartment serves a dual purpose, providing ample storage space and acting as a shelving unit for books and unique objects. These include handmade sculptures from the Atlas Mountains and ceramics from Parisian atelier Amélie Maison d'art. Most of the furniture has been meticulously designed and sourced from the designers' personal network of artisans and craftsmen, as well as the sustainable procurement consultancy Dodds & Shute.
While Maison August and Atelier Ochre have previously collaborated on the redesign of an office for the renowned hospitality company edyn in 2020, this marks the first time that the two studios have come together to work on a residential project.
Image Credits: Kensington Leverne