Amos Goldreich Architecture recently completed a renovation project for a listed maisonette in Chelsea, West London, which included the addition of ample storage space and statement stylings to update the interiors. The project involved refreshing the living room, bathrooms, and bedrooms with bespoke statement joinery to make the spaces more practical for everyday use, while also incorporating varying styles such as urban industrialism, marble, and Asian woodwork.
To achieve a harmonious balance among the varying themes, the architects employed a cohesive approach by carrying textures, tones, and materials throughout the project. In the living room, a custom-made media wall serves as the centrepiece of the space while also functioning as a highly practical unit to house a large television, fireplace, and shelves that can be hidden or displayed as desired.
The client's desire for an industrial-inspired effect for the unit was met through extensive research and experimentation with liquid-applied metal finish options. Ultimately, Metal FX was selected and used to achieve the desired effect.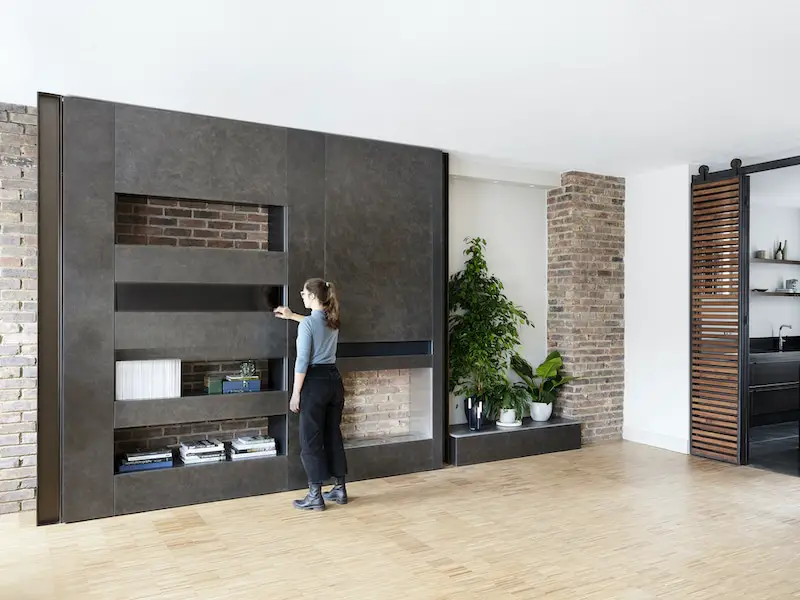 Maison Melange was an exciting opportunity for the studio to flex our creative thinking in functionality and materiality. We were challenged by the unusual collection of styles incorporated into the brief, and found clever ways of blending them together to create a sense of cohesion in the spaces.
It's the thing we touch everyday that are the handshakes of the home. We opted for quality fittings that would age beautifully over time, and add a sense of luxury to the apartment.

Amos Goldreich, Director, Amos Goldreich Architecture
In the bedroom, the architects incorporated a slatted timber wardrobe inspired by North African and Asian joinery traditions, a nod to the client's extensive travels in these regions. This addition not only adds a unique design element but also provides new functionality to the space.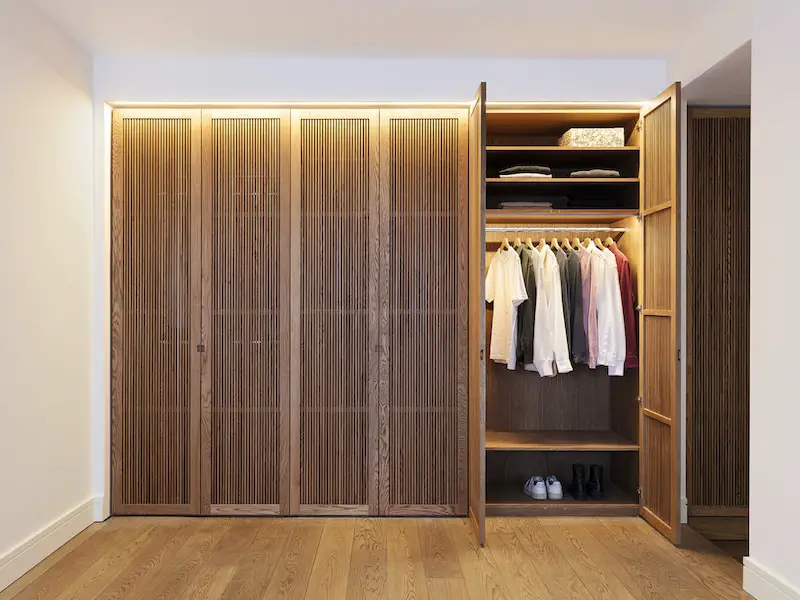 The master en-suite bathroom features a double basin and vanity unit, as well as a bathtub, all clad in travertine stone. To create a unified look, the floor and walls are covered in durable micro cement, which offers a conceptual contrast of materials that sets off the stone. The dark platinum finish of the taps complements the earthy and industrial tones found throughout the space.
In the smaller bathroom, the all-grey micro cement-clad units and walls effectively highlight a striking terrazzo floor, providing a cohesive, monolithic look. Additionally, the neutral backdrop of the microcement is a perfect complement to any accessories that may be added. Overall, these carefully selected materials and design elements work together seamlessly to create a space that is both functional and visually stunning.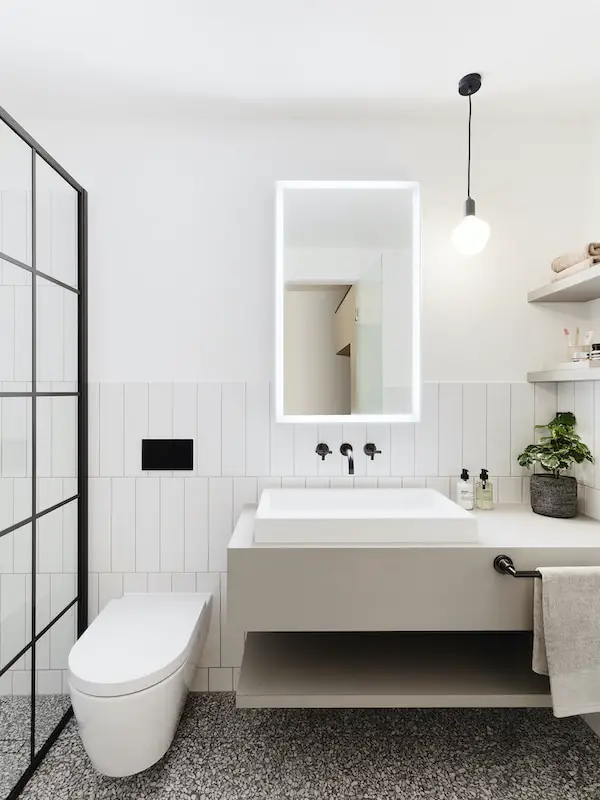 Overall, the project represents a successful collaboration between the architects and client, resulting in a refreshed and functional space that seamlessly blends various design elements.
Project Details for Listed Maisonette
| | |
| --- | --- |
| Architects | Amos Goldreich Architecture |
| Project Size | 250 m2 |
| Project Budget | $400,000.00 |
| Completion Date | 2021 |
| Building Levels | 4 |
| Photography | Ollie Hammick |