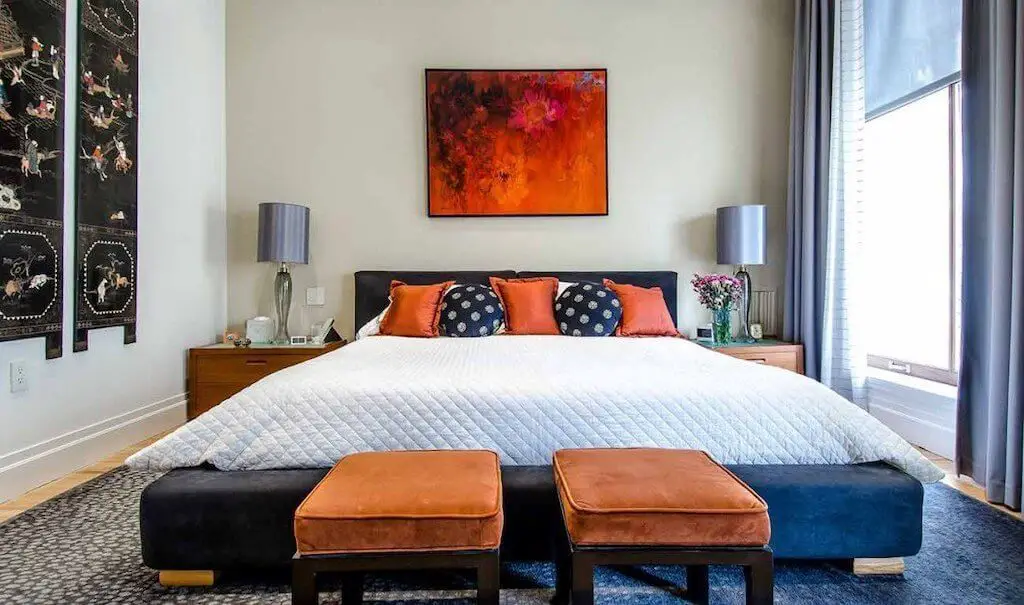 Ad
We spend a considerable amount of time each night in them, on average a third of each day, and it is necessary for it to be an inviting place to sleep and enjoy. Because of this, we have compiled a list of the top 10 bed frames online, so you can make your bedroom the heart of your home:
MADE Essentials Kano Platform King Size Bed with Storage, Pine
This bed was created for the lovers of minimalism, as its simple and sophisticated style makes it a beautifully understated piece of art. The bed frame features two large drawers on either side and even has space at the end of the bed to place your books. It is also easy to maintain and you only need a dry cloth when cleaning it.
Price £449 from Made
Jagger Bed Frame
This bed will make any bedroom a talking point, due to its jagged edged headboard and black rimmed features. But what makes it exceptionally beautiful, is the use of real wood in the design of the bed frame. In each piece of wood you will find – splits, medullary rays, knots and variation in colour. This oak and oak veneer bed also comes with a 20 year structural guarantee, so it's a bed you will not have to replace for a long while.
Price £599 was £799 From Furniture Village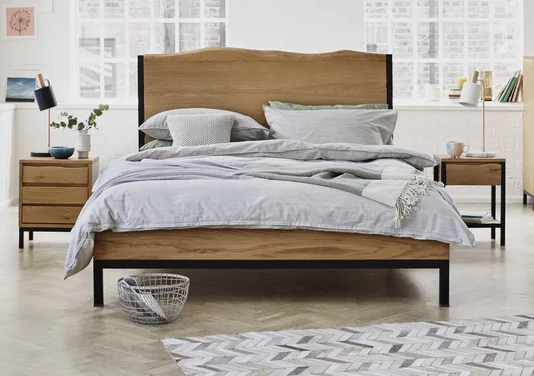 Custom MADE Romare King size Bed with Ottoman, Regal Blue Velvet
If you are looking for luxury and comfort, then this bed is the one for you! The bed frame is upholstered in regal blue velvet and features a pin cushion headboard. Everything from the colour to the aesthetics makes it scream high-end and the headboard offers a sturdy place to sit up and read a book or drink a cup of tea. With a 10 year guarantee, why would you not want this bed?
Price £1149 from Made
Frankfurt Storage Bed Grey
The Frankfurt storage bed has a unique all-over deep buttoned style. There is also a thick outer rim which goes around the entirety of the mattress, which helps to give the bed all the cosy vibes! Under the bed you will find a large internal storage area where you can store items like: bedding, cushions and blankets. There are also other items in the Frankfurt range, such as the Frankfurt three seater sofa – which you could buy to match the bed!
Price £749 from My Furniture J-Bed with Memory Foam Mattress
If you have a multi-purpose bedroom, studio apartment or need a guest bed, then this is the bed frame you should have your eyes set on. It is an easy to fold bed, which has been built for regular use and also complies with British, European and North American safety standards. Not only is it a sturdy and multi-faceted bed frame, but it also features a comfortable memory foam mattress on top.
Price £299 was £399 from Furniture Village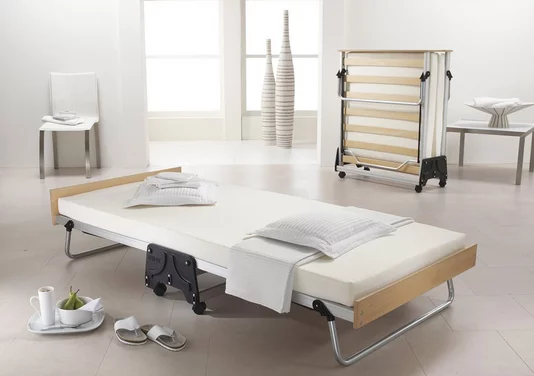 Tretton Deluxe Bed Pink
Girly, chic and pastel pink is everything this bed is! It has a distinctive wraparound headboard and if you are someone who struggles with building beds, then don't worry as it only takes 15 minutes to assemble.
Price £449 from My Furniture Alana Double Bed, Copper
Copper beds are the new trend everyone is talking about and this bed offers the metallic look in the shade of rose gold. The slender profile of this bed allows for a chic and sturdy aesthetic – which will fit into any stylish bedroom. All that's left to do is to buy a metallic bedside table and lamp and the look will be complete.
Price £199 was £399 from Made
Avellino Bed Frame
This bed with a mirrored panels and high-gloss lacquered birch wood veneer is the epitome of luxury. The base of the bed is also built with sprung wooden slats, which is a brilliant type of support for any kind of mattress. It was designed and crafted in Italy and there are many matching items that are available to purchase to go alongside this amazing piece.
Price £1595 was £2129 from Furniture Village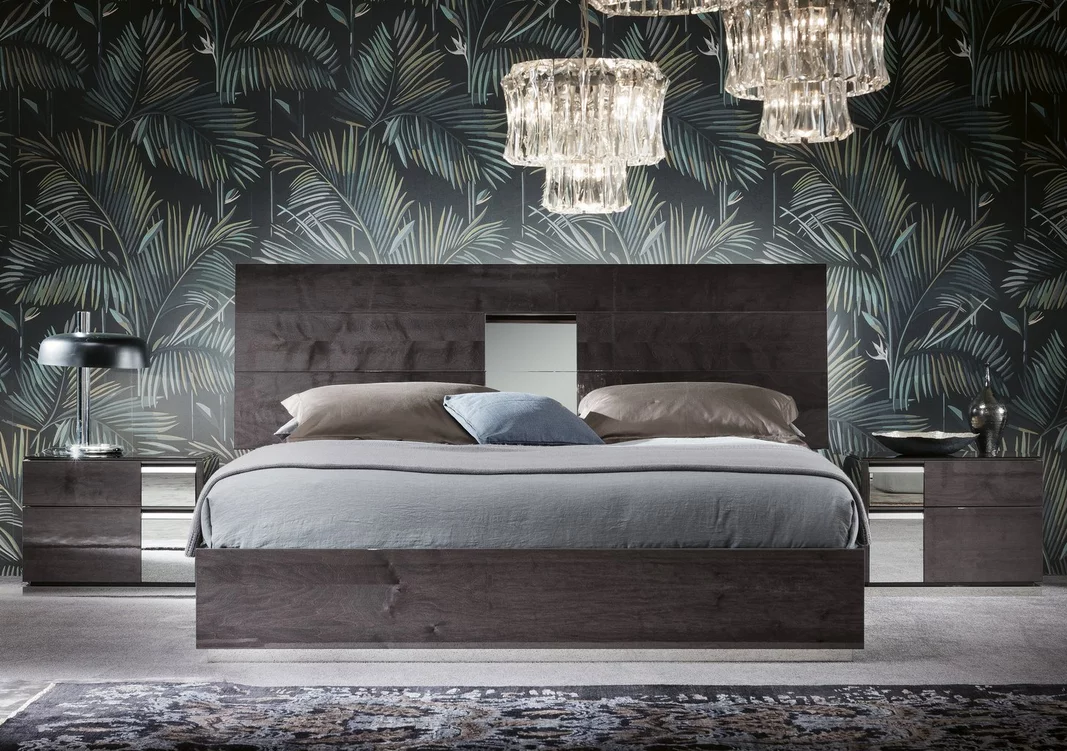 Pino Storage Bed – Silver
This bed has a tall deep quilted headboard, which is perfect for sitting up and relaxing on while in bed. The headboard also features a distinctive pattern, which gives it a funky aesthetic and the stainless steel surround adds to this style. Under the bed you will also find a large internal storage area.
Price £699 from My furniture Reema King Size Bed, Cane & Oak
This simplistic bed, made out of cane and oak, helps to bring the tropical vibes to your bedroom. All you need is a miniature palm tree to complete the look. It is also an easy to clean bed frame, as you only need to equip yourself with a dry cloth to wipe it down with.
Price £549 from Made