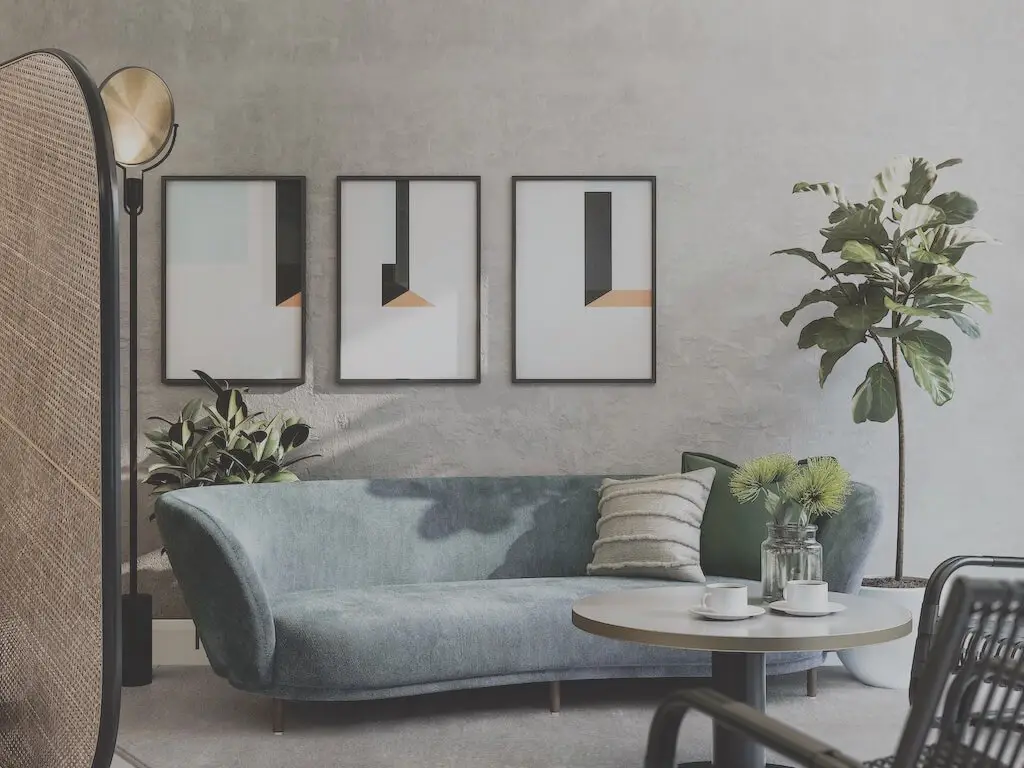 Ad
Lets be honest, no sofa should be without one – so we have compiled a list of the top 10 coffee tables on the market:
Papillon Coffee Table
The Papillon Coffee Table was inspired by highly collectable 1960's bespoke American furniture and exudes style and character. The top is finished in Macassar Ebony veneer and because it is built with natural materials, each piece is one of a kind. It is also possible to buy a Papillion bedside table and sideboard to match.
Price £319.99 from My Furniture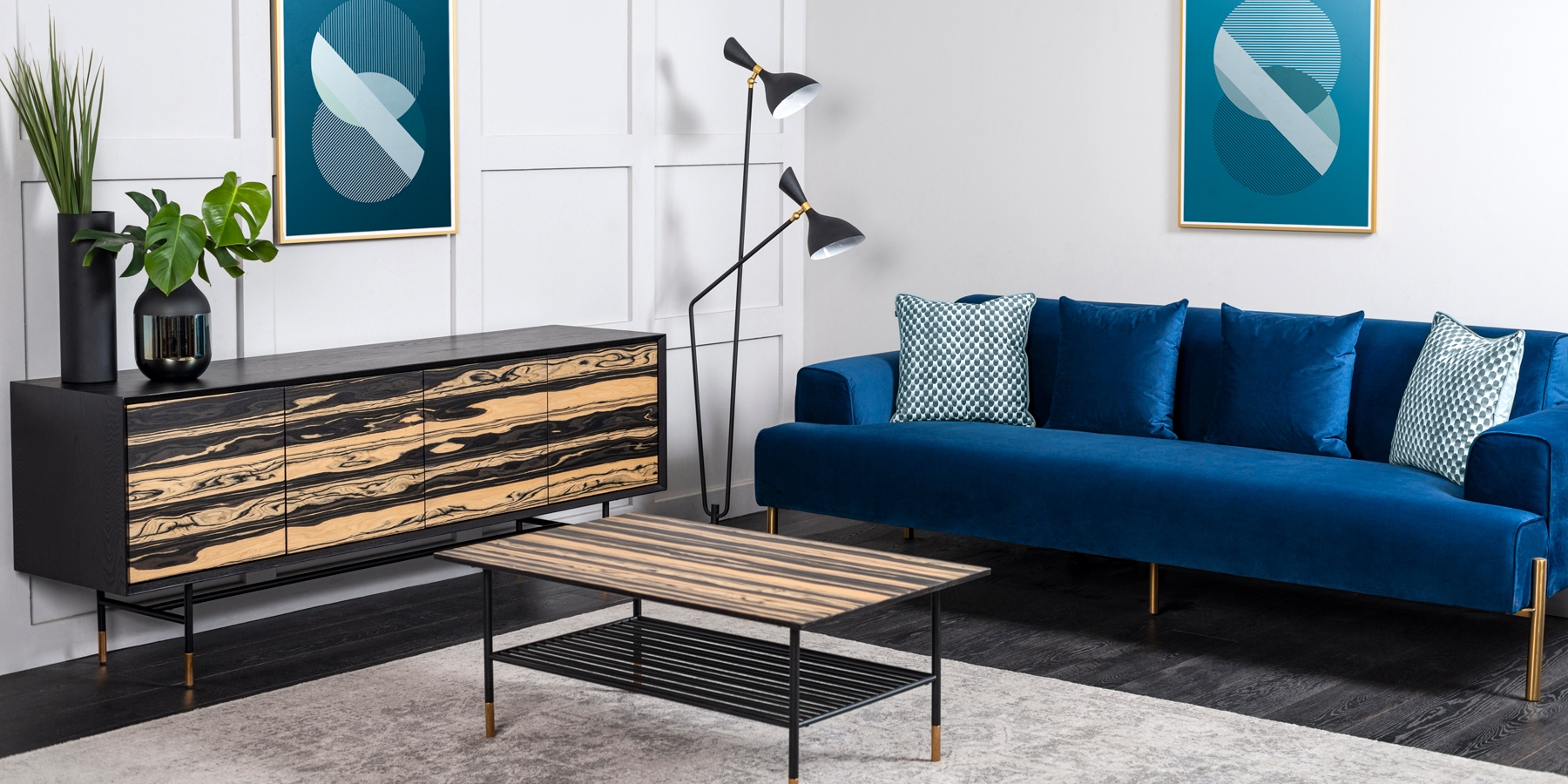 Zurn Nesting Coffee Table, Concrete
The Zurn Coffee Table, is a set of 3 nesting tables which have a stunningly crafted industrial look. The sleek and neutral design is perfect for a room with a lot of colour, as it will help to add contrast. It is also very easy to clean, as you only need to wipe the tables with a dry cloth.
Price £399 from Made
Chennai Coffee Table
If you want to make your coffee table a talking point, then this is the one for you! It is seeping in character and is built from Indian railway sleeper wood, which is naturally weathered and has a wonderful surface texture. The coffee table also features an X-shaped stainless steel base and glass top, helping to add a touch of glamour.
Price £599 from Furniture Village
Rippon Silver Square Coffee Table
The Rippon Silver Square is a large glass and mirror coffee table, with a polished stainless steel frame. It's simple and stylish design is perfect for any type of living room, and its secondary base layer provides extra space for magazines and books.
Price £319.99 from My Furniture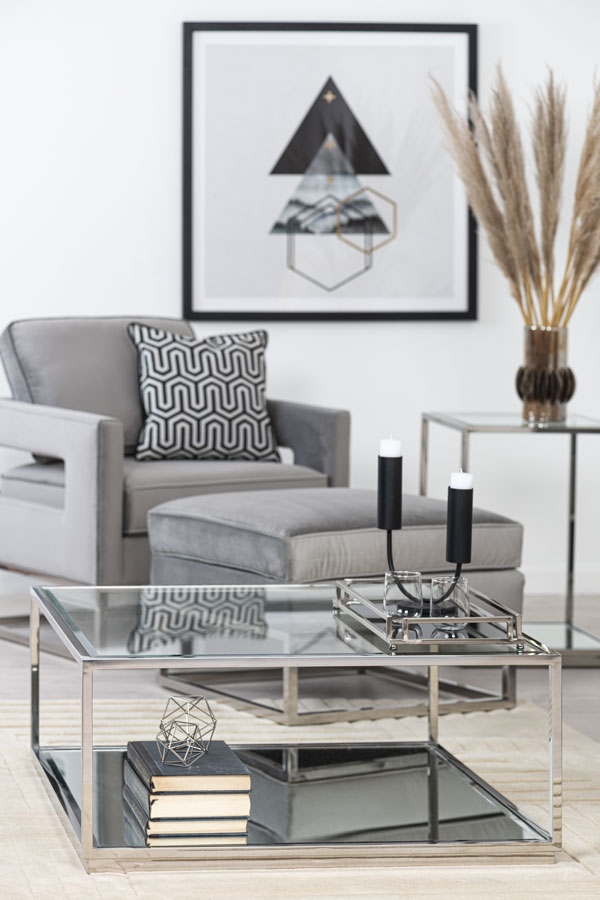 Aula Nesting Coffee Table
The Aula Coffee Table, is a set of 2 nesting tables joined together in the middle. This stylish piece helps to inject character into a simple living room, and also has a lot of space to place your items such as: mugs and books.
Price £299 from Made
Albarino Coffee Table
This coffee table is extravagant and striking, and features a pedestal base. If you like designer furniture and want to add a sense of drama to your living room, then this is the table for you. It is also a large scale piece, which is made of white quartz marble topped with a marble-effect finish. It is also easy to clean, as you only need to equip yourself with a damp cloth and a dry soft duster.
Price £499 from Furniture Village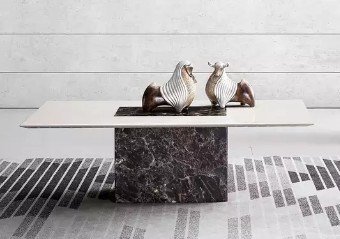 Stiletto White Glass and Rose Gold Coffee Table
This coffee table is the perfect focal piece for an elegant and striking living room. It has maximum functionality, and features 2 deep black felt lined drawers and is built with strong and durable toughened white glass. It also has a tapered rose gold frame and handles.
Price £299.99 from My Furniture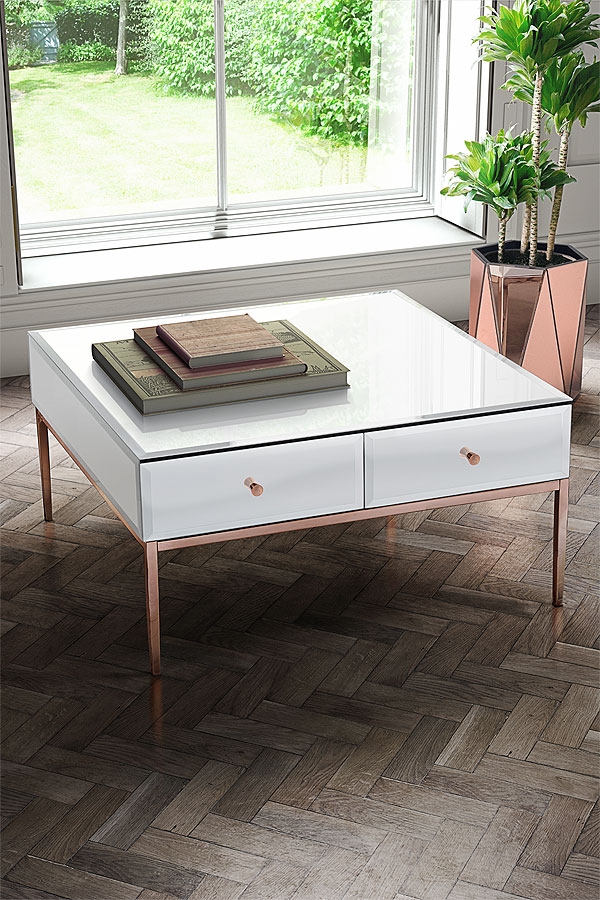 Spiro Coffee Table
The Spiro Coffee Table is based upon the design of the woven basket, and has an intricately constructed base. The striking design also features functionality, as the circular glass top is resistant to spillages – making it the perfect place to put your hot beverages!
Price £699 was £939 from Furniture Village
Lomond Lift Top Coffee Table
The design of this coffee table brings together aesthetic and functionality. This piece, with sleek brass legs and a mango wood finish, also extends into a table – which means you can now comfortably eat breakfast on the sofa.
Price £349 from Made
Grande Coffee Table
If you have a bright and airy living room, then you most certainly need this white and glossy pedestal style coffee table. This elongated, yet low, designed piece is the perfect place to store all of your bits and bobs. There are also other matching items you can purchase to go along with this coffee table, such as the: Grande TV Unit with Drawers and Grande White High Gloss Extending Dining Table.
Price £249 from £279 from Furniture Village